If you are looking to watch HOTSTAR on your TV, this is an article that you should read. You will find three simple ways in which you can cast or watch Disney Hotstar on your TV (even if you don't have a smart TV). You can easily connect Hotstar to TV if your TV has a HDMI port using any of these ways.
Hotstar with its premium quality and few ads offers a great experience for watching content on TV. Not only Sports content but also a variety of TV channels from the Star Family. 
Practically, if you have Hotstar (now called Disney + Hotstar) on your TV, you can easily save money on your cable connection. You can ask your cable provider to drop all the Star Channels and any other channels that are available on Hotstar. 
For those who are not updated, you can now get Smart TVs which offer the Dinsey Hotstar App on Amazon as a default option. If you have a smart TV and are looking for the steps to activate or watch Hotstar on Smart tv, click here to jump to that section. These steps work for any smart TV which has the Hotstar app be it Sony, LG, MI, Samsung, Onida etc.
But even if you don't have a Smart TV, don't worry. In this article, you will get three ways in which you can enjoy Hotstar even on normal TV.
How to watch Hotstar on TV:
Way 1: Use Amazon Firestick Device to run Hotstar App directly on TV
Way 2: Connect Laptop to your TV using HDMI cable and cast Hotstar from Laptop to TV
Way 3: Use the Google Chromecast device to cast/mirror Hotstar from Mobile to TV
Now let us look into the details of each of these ways- what you need, steps involved, Advantages and Disadvantages.
Way 1: Use Amazon Firestick Device to run Hotstar on your TV
What you need: You need the following things to watch Hotstar on TV with this method:
TV which has an HDMI port
Wifi connection / Mobile Data Connection
Amazon Firestick Device
Follow the simple steps below to watch Hotstar-
Step 1- Use Amazon Firestick Device (available on Amazon) Firestick offers not only Hotstar App, but you can also watch Youtube, Prime Video, Netflix, Zee 5, Sony Liv, Jio TV Apps which you can download from the Amazon App store.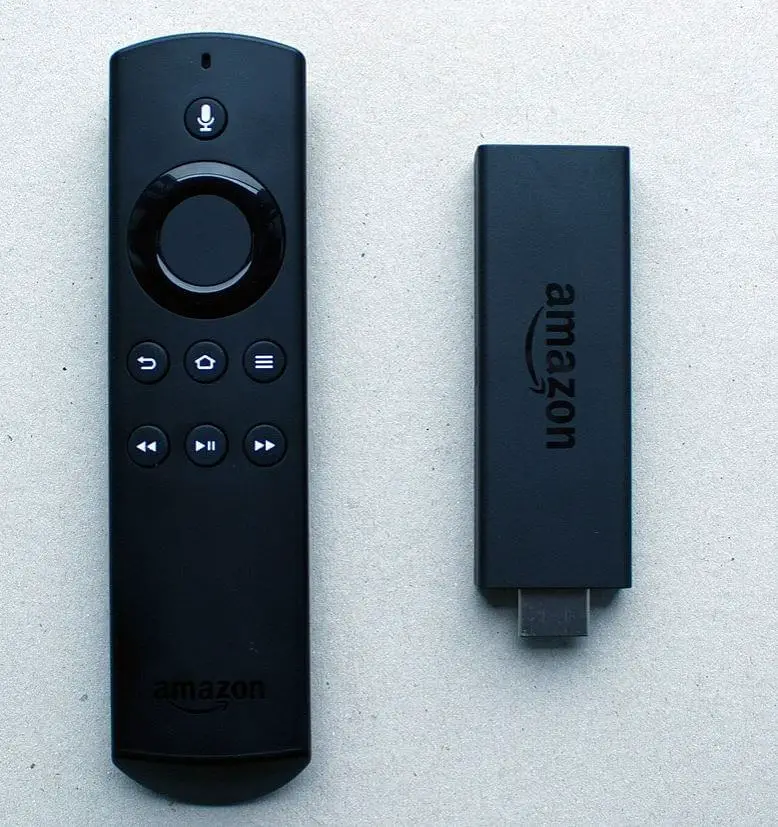 Advantages of getting Firestick
You can watch a variety of content-not only Hotstar but Amazon Prime, Youtube, Sony Liv, Jio TV, ZEE 5 etc. 
You can watch TV without disturbing anyone at home by using Bluetooth Headphones. Firestick offers Bluetooth compatibility.
You can search any content just by speaking into the remote- as Firestick offers good quality remote which has a "Voice Search" option (using Amazon Alexa technology)
You can also browse the internet using this device
A sturdy and well built device being Amazon's own product
You may find the device a bit expensive, but it offers a great value for money.
Basically, it is as good as converting your normal TV to a Smart TV.
Also Read: Hotstar VIP vs Premium – Which Plan is best for you?
Step 2- Connect the Firestick device to your TV. 
You can use either the HDMI cable extender in the Firestick box to connect to the HDMI Port on your TV or connect device directly to the TV HDMI port.
Also, you need to connect the Firestick Device Charger (which is like any Android Phone charger) to your Power socket and the middle charger port on the Firestick device.
You will be able to watch Firestick content by pressing the INPUT button on your TV remote and selecting "HDMI" from the options. If you have two HDMI ports, select "HDMI 1" or "HDMI 2", as applicable.
You can connect both Firestick and your cable TV and easily switch between the two. Generally, if you use a cable connection with Set-Top Box, it connects to the AV2 ports of your TV. So you can run both your cable (on AV2 Port) and Firestick devices (on HDMI port) easily at the same time. Use the INPUT button on your TV remote to switch between Cable and Firestick.
Step 3- Set up the device on your TV by following the instructions. During this process, you need to connect it to your Home Wifi. Enter the Wifi password when prompted. Also, you may be asked to log in to your Amazon Account so that Amazon can sync content accross devices.
This video can help you with that:
Step 4- On the Home Screen, you will be able to access Hotstar App.
Step 5- Run Hotstar App on Amazon Interface and sign in to Your Hotstar Premium Account to watch Hotstar
This is probably the best way to connect Hotstar to TV as the Firestick device offers much more than just Hotstar App and is superior quality device. But make sure that you have good internet speed for un-interrupted Firestick streaming.
Also Read: Disney Hotstar vs Amazon Prime- Which is the Best
Way 2: Cast Hotstar from your Laptop to TV using HDMI port
If you don't want to purchase a Firestick, there is still a way (PS: I highly recommend getting Firestick device as it is definitely worth it)
This is a pocket friendly option, if you have a laptop. This can be a great way to watch Hotstar on TV without Firestick.
What you need for this method:
TV with HDMI port
Laptop with HDMI port
HDMI Cable (available on Amazon)
HDMI Cable is easily available online at very cheap prices on Amazon website.
You can simply run Hotstar on your laptop and connect your Laptop to your TV.
For this, both your laptop and TV should have an HDMI port. All you need to buy is an HDMI cable from Amazon or any shop to connect the laptop to your TV.
In simple words, this is casting your laptop content on your TV. When you cast, you are sending some piece of content from your laptop or smartphone to another screen such as a TV.
This is a really simple and cost-effective method that you can use to watch not only for Hotstar but watching any laptop content on your TV. The only con here is that you need to have the laptop connected to the TV all the time.
Also, you cannot control your laptop content from a distance with your TV remote. But you can use a wireless keyboard for this purpose.
Way 3: Cast Hotstar from mobile to TV using Google Chromecast
You can cast Hotstar from mobile to TV using Google Chromecast. This device is available on Flipkart.
Note Hotstar does not allow screen mirroring of your mobile screen on TV. It only allows casting through Google Chromecast and other devices.
Just follow the steps below to run Hotstar on TV using this option.
What you need for this method:
Google Chrome Cast Device
TV with HDMI Port
Android Phone (Install Google Home App on it)
Wifi Connection at Home
Steps to watch Hotstar on TV using Google Chromecast
Step 1: Plug-in your Chromecast device to HDMI Port of your TV.
Step 2: Press Input or Source button on your TV remove and select HDMI 1 / HDMI2 depending on which port your have connected the Chrome cast device.
Step 3: Open your phone and connect it to same Wifi or data connection as your TV.
Step 4: Now download Google Home App on your Android / Apple phone
Step 5: Open Google Home app and complete set up on Google Home by signing in your Google Account (check video below)
Step 6: After set up, Google Home app will find and display the Chromecast device . It will ask your confirmation to connect. Click Yes and it will ask to confirm the code which is displayed on your TV to complete the linkage between Chromecast and TV.
Step 7: Once the set up is complete, you can open hotstar app. Click on the cast icon on the top right corner on your hotstar app.
So this is one way in which you can cast your mobile content on your TV using Google Chromecast device.
How to watch Hotstar on Smart TV-Android TV
If you already have a Smart TV (or even Firestick) and looking for the process to watch Hotstar on smart TV, read on.
Below are the steps using which you can login or activate your existing Hotstar subscription on TV. Please note these steps work for any smart TV which has the Hotstar app be it Sony, LG, MI, Samsung, Onida etc.
Steps to start watching Disney + Hotstar on your Smart TV:
Step 1: Download Disney Hotstar App from Google Playstore or TV App store: First you need to go to your TV home screen and download Disney Hotstar app from Google Play store if it is not there.
Many Smart TVs come with the Hotstar App already installed in it, while in others you need to go to Google Playstore or the TV App store to download it (this is similar to the process we follow in mobiles). Once you have the Hotstar App installed, following are the steps
Step 2: Open Hotstar  App, then press the left button on your TV remote to open Hotstar options menu
Step 3: Scroll down to to the last option on the menu which is "My Account". Select this and Press OK to open this option.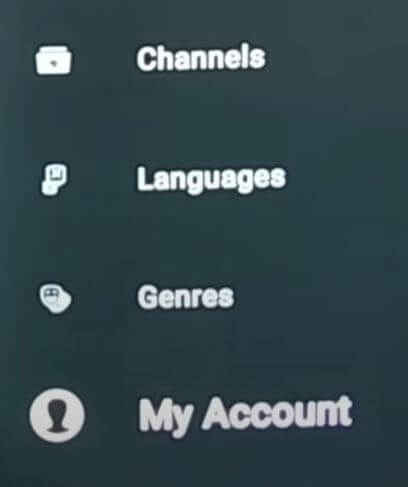 Step 4: You will now be shown a set of instructions along with the 4 character code to activate your paid subscription on TV. This is the code that you need to enter in your phone by going to Hotstar website.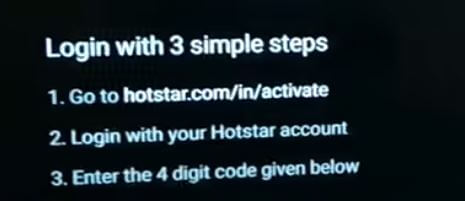 Step 5: Open your internet browser like Chrome etc. on your mobile and type the URL www.hotstar.com/activate
Step 6: Login to your Hotstar account and simply enter the code you see on your TV screen
Step 7: You will see a confirmation message on your TV screen
If you face any issues in running Hostar app on TV, try updating the app version or remove this app and re-install it from Google Play store or TV App store.
Did You Know?
Hotstar offers not only Sports content, but also a huge collection of movies (in nine different languages), TV shows and news channels. Movies are offered in languages like English, Hindi, Bengali, Gujarati, Marathi, Kannada, Tamil, Telugu and Malyalam. 
While for watching the live sports content, you can go for the Hostar VIP plan. But in case you want to watch English movies, you can go for the Hotstar Premium Plan. You can find the detailed differences between Premium and VIP plan here.
There is a ton of variety in News Channels as well. In English, you have channels like Republic TV, ABP, India Today, Bloomberg etc. You also have the entire network of ABP channels in Hindi and Regional languages.
You can also watch US TV series, including award-winning titles, such as The Big Bang Theory, Arrow, The Flash, S.W.A.T and The Goldbergs. Also, in the Hotstar Collection, are Hollywood blockbusters and classics like Harry Potter, Spider-Man, Iron Man and Pulp Fiction.
So, use either of these 3 ways and start watching Hotstar on your TV (even if it is not a smart TV) . Let me know what is your best way to start watching Hotstar on TV.