If you are a user of Vodafone [now called VI in India]mobile services, you will often need to download your mobile postpaid bill to keep track of your call expenses and usage. This guide will give you a step by step process to download your Vodafone [VI] bill.
Update: On Sep 7, 2020, Vodafone and Idea have now been re-branded under name of "VI" with a new logo as a part of the merger.
Vodafone or Vi provides you a number of convenient ways to access and check your Vodafone Postpaid Bill. You can download your Vodafone postpaid bill using "My Vodafone App" now called "Vi App" or if you have registered for Vodafone E- bill, click on the link to download bill in the email received from Vodafone.
Let's look at the details on how to download Vodafone Postpaid for both these ways (with all the steps and images)
Download Vodafone Postpaid bill using the steps below:
Step 1- Download and Install "My Vodafone App" -now called Vi app
Step 2- On the App Home Screen, tap on "Bill History" Tab at the bottom of the screen
Step 3- On next screen, it will show the "Past Bills" section with the Bill Amount and "Bill Cycle" for the Month you wish to download.
Step 4- Tap on the option to "download bill" or "email itemised bill"
When you click on "Download", bill copy will be saved as PDF on mobile in download folder and you get an option to open it immediately.
If you choose the "Email Bill" option, you will receive an email copy of the bill which is password protected. You can open the bill with the password which is first 4 digits of your name and last 4 digits of your mobile number. e.g. if your name is Suresh Rao and mobile no. is 9xxxxxx4321 then the password will be sure4321
Also Read: How to check Jio Balance [5 Easy Ways]
Step 1: First step is to download and install the Vodafone App.
You can find detailed information on how to perform these steps (with screenshots) below.
You can download "My Vodafone App" now called Vi app from the Android Playstrore or Apple App Store. This app is really useful and offers a lot of helpful information like your data plan, usage details, bill history, offers for your number.
And of course, it includes the option to download your monthly postpaid bill.
You can also check this video for a preview of the steps to download your Vodafone bill:
After downloading, sign-in or register on the App if you are using it for the first time.
On signing in you will see the App Home Screen. Here you need to locate and click on the "Bill History" Tab at the bottom of the screen (see image below)
Step 2: Go to the "Past Bills" section below the graph
Once you click on Bill History, the next screen will show you a graph of your last three month's spend i.e. monthly bill amount. You need to scroll down and find the Past Bills section below the graph(see image below)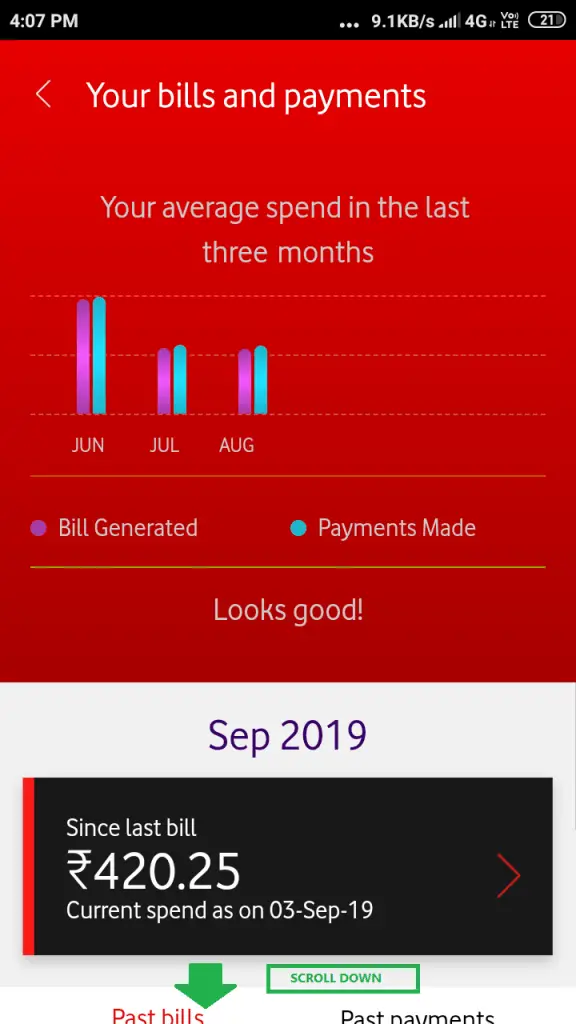 Step 3: Select the Bill Amount for the Month you want to view
Once you find the Past Bills section, you will see a list of your past monthly bill amounts. Click on any month for which you want to download or view the postpaid bill.
Step 4: Click on "Download" or "Email Bill".
In the next screen, you will find options to "Download" or "Email Bill".
Once you click on download, bill copy will be saved as PDF on your mobile and you get an option to open it immediately.
Step 5: Once the bill is downloaded, you will see a message "Bill Saved. Click here to Open."
That's as simple as it can get. This is perhaps the easiest way to download your Vodafone postpaid bill using your mobile.
Even if you choose the option to "Email Bill", you will receive a password protected pdf of the bill in your email.
Step 6: Checking and reading the bill
The first page of Vodafone bill carries details about the Invoice No, Bill Period, Bill Date and Your Plan, the Amount Due and Due Date.
Vodafone has also added a Bharat QR code from any banking App which supports payments through banks or wallets.
The next page carries the break-up summary of Monthly Rent charges, Call charges, SMS charges, Mobile Internet Charges and charges for any Value Added Services.
Further, going down, you also get day-wise details of Mobile Internet Usage and the charges.
Also, if you have opted for itemized bill with Vodafone, you also get details of your call history.
To Download Vodafone Bill PDF from the e-bill received on you registered email id-
If you have opted for Vodafone e-bill, you can download the PDF by clicking on the link "Download PDF" in the email sent on your registered email id.
Related Questions
How to pay your Vodafone Bill and what are the offers available?
You have a variety of options to pay your vodafone bill. There are also discounts offered by various wallets like Paytm, Payzapp, Freecharge, Mobikwik.
You can also pay using your credit card. Most banks offer credit cards with 5% cashback on Mobile Bill Payments like Standard Chartered Bank Manhattan Card, HDFC Moneyback Credit Card etc.
I usually find offers on wallets to be attractive especially on Payzapp and Freecharge. Their offers keep on changing from time to time.
MyVodafone app gives you all the options to manage and keep track of  your Vodafone account.It also has the option to manage multiple accounts for Vodafone postpaid users and Vodafone prepaid users.
Options For Vodafone Postpaid users
As a postpaid user, you have the following options in MyVodafone app:
You can track your Usage Details like data used (2G/3G/4G) and the Vodafone data balance available, calls, SMS etc
You can view and download current Vodafone bill, check outstanding Vodafone bill, last 6 months Vodafone bill and payment details. Also, you can view the unbilled amount.
You can view the details of your Active Plans and packs and active Vodafone Services
You can pay Vodafone bills using any of the payment options like a credit card, debit card, Net banking etc for your own and even other Vodafone postpaid numbers of family, friends, relatives.
Options for Vodafone prepaid users
As a prepaid user, you have the following options in MyVodafone app:
You can view recent Vodafone recharges and balance deductions, Vodafone data plan details, data used and balance available
You can recharge your prepaid numbers using Credit Card, Debit Card and Net Banking. 
Other Benefits of MyVodafone Apps for both Prepaid and Postpaid Users
You can get exclusive App offers, 121 offers
Activate Vodafone Roaming Services & Vodafone Data packs for national and international roaming on MyVodafone App
You can Activate national roaming packs for Vodafone prepaid users
You can also check and activate the international roaming rates for different countries. Also, find special Vodafone International roaming packs.
Other Useful Features
New Connection Request- You can request for a new Vodafone postpaid or Vodafone prepaid connection via MyVodafone App and avoid a visit to Vodafone Store
MyVodafone App Speed Test- MyVodafone App comes a feature to test your Vodafone data speed at any time from anywhere.
MyVodafone App Store Locator– The new MyVodafone App has an option to find closest Vodafone Store near to your location
MyVodafone App Wifi Connect- MyVodafone App identifies Vodafone Wifi zones and lets you connect to Vodafone wifi network
You also get access to Entertainment and Music section on the App.