Maharashtra Natural Gas Limited is a leading supplier of PNG in Pune. If you are a customer of MNGL, you are often asked to provide your BP number. The BP Number is required even to make online payment of Gas Bill and generally needs to be quoted for complaints or request.
So what is the MNGL BP Number and how do you find it? BP number is a unique 8 digit number provided by MNGL to each customer. You can find the BP number printed on the monthly gas bill provided by MNGL (left-hand side). (See illustration image on top)
The BP number is unique for each gas connection. Also, it is not the same as your meter number.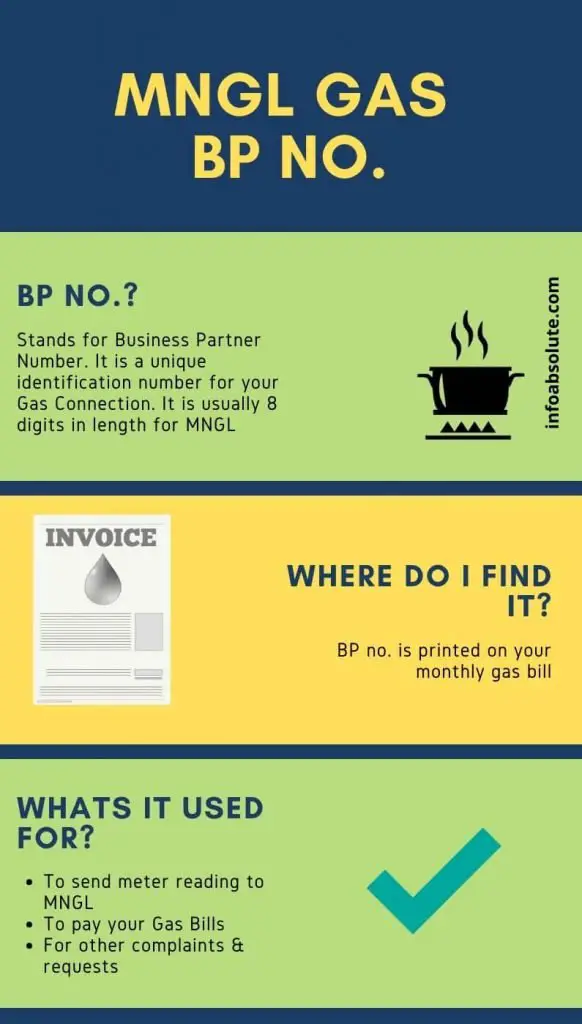 In case you have not received a bill yet for your BP number, the only approach that you can take is try to get in touch with MNGL customer care. They also have a contact page on their website. It has a form where you can fill the details and send your query . Luckily, this form does not ask for your BP Number.
We don't know how fast their customer care responds to the queries but it doesnt seem to be very responsive.
You can also find the details of MNGL Customer care below for your easy reference.
MNGL Customer Care -Toll Free Number and Email
These are some of the communication modes mentioned in MNGL website to reach their customer care.
Toll Free Number: 180-02662696
Emergency Number: 9011 676767
Email : [email protected], [email protected]
Address for sending queries: Sr No-28/2, Ground Floor, Office No-1, Zenith Plaza, K.M.Gandhi Path ,Near cloudline hospital, Shivaji Nagar,Pune-411005.
You can also check their
Uses of BP Number
If you have queries/complaints relating to your MNGL Gas Connection, you can contact their customer care and quote your BP number.
You also need to enter your BP number while sending the meter reading to MNGL online or via any other mode.
So make sure you have your BP number handy while intreracting with MNGL.
BP Number can be used to make bill payments online, complaints and other services on MNGL Website related to your PNG gas connection.