As per Mahanagar Gas Terms, if you are familiar with your billing cycle (Actual or Assessed), you can send the actual meter reading over phone or via e-mail, seven days prior to the billing cycle.
How to send meter reading to Mahanagar Gas by SMS?
To send your meter reading to Mahanagar Gas by SMS: Send following message to the phone no. 92235 55557:
<BP No.> Space <5 digit meter reading >
Where the BP No. stands for the Business Partner Number which is mentioned on your Mahanagar Gas Bill. For the 5 digit meter reading, you need to take only the 5 digits under black portion on the meter e.g. 0 8 5 3 2, 123. Ignore the figure to the right of the comma and only use '08532' (check images below for illustration)
Where to Find the Mahanagar Gas BP number (Business Partner Number)
The BP No. (Business Partner) is printed on your Mahanagar Gas Bill.
Check the image below to find the location on the face of the bill-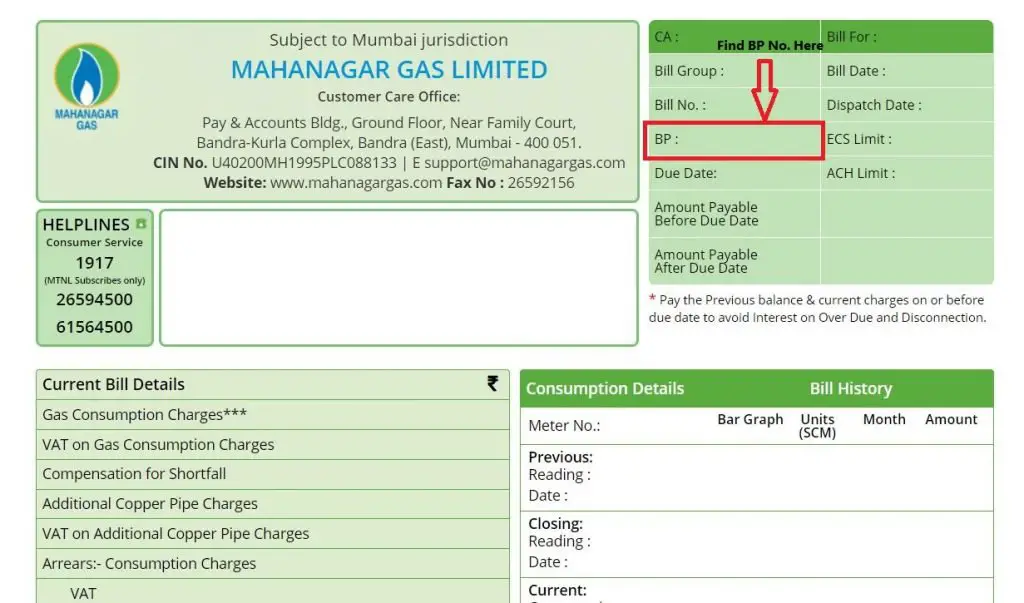 Image Credit: Mahanagar Gas Limited – Website
How to get the Mahanagar Gas Meter Reading
For the meter reading, you only need to consider the 5 digits under the black portion of the meter.
Ignore figures after comma which are in the red portion. See Illustration Below.
Here the meter reading is 00222

Other Ways to Send Mahanagar Gas Reading
Recently, Mahanagar Gas has also been providing a lot of other convenient ways for its customers to send the meter reading (apart from using SMS)
Some other convenient ways to send your meter reading to Mahanagar Gas:
(A) Download 'MGL connect' Android App from Google Playstore &
Upload your metre photograph and reading through the app.
Though this app does not seem to have good user reviews, it a still acceptable channel. 
OR
(B) You can also e-mail your meter reading to [email protected]
OR
(C) Logging in to www.mahanagargas.com – Customer Zone and entering your meter reading, OR
(D) As a last resort, you can consider calling Mahanagar Gas Customer Care to inform the meter reading over phone – (022) 26594500 / (022) 61564500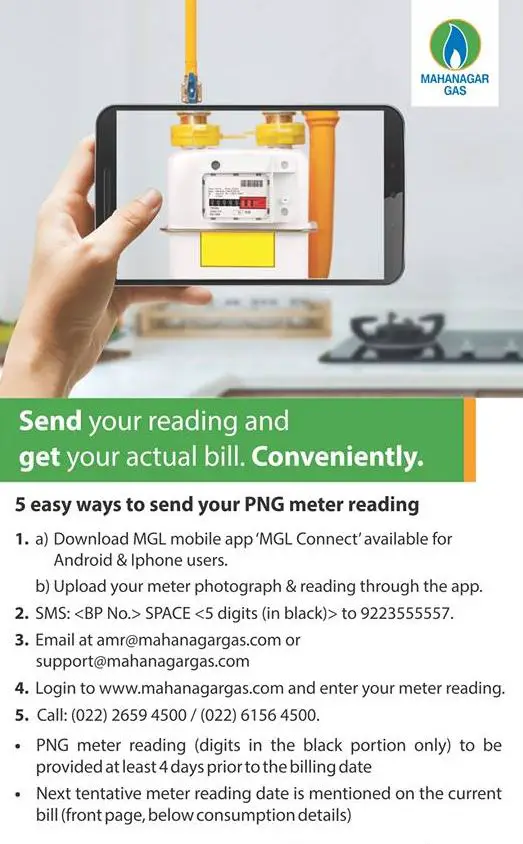 Image Credit: Mahanagar Gas Limited – Website
What is the Billing Procedure followed by Mahanagar Gas?
As a customer of Mahanagar Gas subscriber, you are allotted a Business Partner (BP) and Contract Account (CA) Number for your unique identification. 
Mahanagar Gas usually sends bills once in two months.
Actual Bill vs Assessed Bill- What's the Difference
The First bill that you get from Mahanagar Gas is generated based on the actual meter reading. This bill is also called as Actual Bill.
After two months, an Assessed bill is sent which is again succeeded by an Actual bill.
This sequence is followed alternately.
Let's see this further.
How do you know if my Mahanagar Gas Bill generated is Actual or Assessed?
Actual Bill– In case of an ACTUAL bill, the exact reading taken as shown in the meter on a particular date. The same is reflected in the bill.
Estimated Bill- If reading is not available, a bill is generated on an ESTIMATED basis. The word (E) will be mentioned on such estimated bill.
Assessed Bill- In case of an ASSESSED bill, the word, (A) is mentioned beside the reading.
Also, the word 'ASSESSED' is also mentioned on the invoice.
Pre-cautions to be taken in case of Meter Readers
Meter readers having a valid Identity Card only should be allowed to take your meter reading.
Meter reader carries Smart Phone hand held terminal.
Do take the following precautions before allowing meter readers at your residence –
Check Valid identity card,
Check Authorization letter issued by MGL
Check MGL non-employee ID card
Important Points to Note on Mahanagar Gas Billing Process:
Bills are raised on Bi-monthly basis.
If the meter reading on the bill displays (A) or (E) , it means that the ACTUAL READING IS NOT AVAILABLE TO MGL.
If you are billed for > 3 times on Assessed basis, MGL will issue a notice.
THREE RATE SLABS
The more you consume, the higher the rate.
Presently (As in July 2016) there are 3 Slab Rates.
Slab I = Rs. 21.96/SCM,
Slab II = Rs. 26.01/SCM,
Slab III = Rs. 33.36/SCM.
(SCM – Standard Cubic Meter) · Slab III rates vary month on month.
Applicable rounding off is carried out for gas consumption by SAP.
 TO AVOID ESTIMATED BILL, YOU CAN RENDER HELP AS FOLLOWS:
(a) Remember your billing date.
(b) At least 4 days prior to the billing date, give Actual Meter Reading (the digits under black portion on the meter) to MGL through any of the means explained above.