Tanishq Golden Harvest is a jewellery purchase scheme by Tanishq where customers pay a fixed instalment every month. This amount can be used to buy Tanishq jewellery at a discount rate in the future. It is good way to reserve some money to buy the Tanishq jewellery of your choice. If you have a Tanishq Golden Harvest Account and need to check your balance, read on.
How to check Tanishq Golden Harvest Balance
You can check Tanishq Golden Harvest balance online on Tanishq Website by logging in with your registered mobile number and password or by downloading Tanishq Golden Harvest App (from Google or Apple App Store). Alternatively, you can contact Tanishq Customer Care at Toll Free no. 1800 258 2598.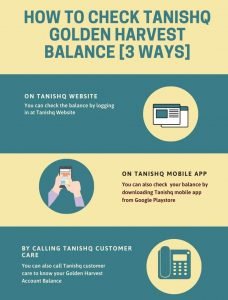 You can check the detailed Guide on how to do this below:
Way 1: To check Golden Harvest Balance On Tanishq Website
You can also check your Tanishq Gold Harvest Balance by logging in at Tanishq website- https://www.tanishqgoldenharvest.co.in/online/home
For logging in , you need to enter your registered mobile number and password.
Way 2: To check the Balance On Tanishq Golden Harvest App:
Download Tanishq Golden Harvest App from Android or Apple Playstore
Using this this app, you can do the following:
Pay your Golden Harvest installments online
Easily manage your multiple Tanishq Golden Harvest accounts 
Get payment reminders and statements related to your account
Receive personalized suggestions from Tanishq
How to use the App

Your registered mobile number is the User Id of your Golden Harvest Account

You can use your existing password or click on reset password to generate a new password
Way 3: Contact Tanishq Customer Care Toll-free no- (10 am to 10 pm on all 7 days)
You can also connect with Tanishq Customer Care at the following phone no.
1800-258-2598
1800-266-0123
Tanishq Customer Care Email id-
In Tanishq Golden Harvest Scheme, you can buy more than what you actually pay. Tanishq provides a special discount upon maturity.
In this way, you not only keep money aside for your future purchases, but also enjoy benefit of buying at a discounted price.
Tanishq has a 10 month as well as a 6-month scheme. You can select the scheme period based on your individual needs.
In case of 10 month scheme, customer pays a fixed installment amount on the due date every month with Tanishq for 10 months (minimum installment value – INR 2000 or higher in multiples of INR 1000).
Benefits to Members of Golden Harvest Scheme
What benefits do you get as Golden Harvest member?
As a Golden Harvest member, you  can get to be an Encircle member-TITAN Company's loyalty programme and enjoy host of benefits from over 1000 stores.
You can also club your Golden Harvest discount at the end with any ongoing offers that Tanishq has at that time. Thus get that extra benefit!
You can get easy access to all Tanishq Offers. Get the information advantage.
You can get all the details of any scheme being offered by Tanishq. Get the information advantage.
Last but not the least:
As a Golden Harvest member, you can get your jewellery checked for its purity for free at any of our showrooms, you can also get it cleaned and serviced for nominal charges.
How to pay your Tanishq Golden Harvest Account installment?
There are multiple payment options to pay your instalments.
You can pay online using debit/credit card, net-banking or you can pay at our stores. However, payment through International debit/credit card is not possible
Although most cards can be used for making the payment, some cards like maestro cards of SBI/ Citibank and Diners Club cards are not accepted.
How to check the Paytment Status of Tanishq Golden Harvest Instalmmentt?
You can log in at Tansihq webiste or App your username and password. Go to the 'My accounts' page. Click on 'view details' to see the account status.
Payment alerts/reminders
You can opt for getting SMS reminders during enrolment to Golden Harvest. You'll receive reminders and confirmation messages for all payments.
This will happen only if you are not a DND/NDNC registered customer.
How do I know if your payment has been credited to my Golden Harvest Account?
You'll get a confirmation email & SMS (if opted for) confirming your payment. You can also go to 'My accounts' and see your payment details.
What happens if my payment fails?
If your payment fails due to any reason, you'll not be led to the confirmation page. In this case, you need to try to pay again after some time.TITAN Company will not be responsible for any payment failure due to any reason.
Can I pay all installments at once?
No you can pay only one installment in a month.
What happens if I miss paying installments?
If you delay or miss paying installments, the discount shall be reduced proportionately to the effect of the number of days the payment is delayed by.
How to find a Tanishq store near your location?
Google 'Tanishq near me'. And walk into the nearest Tanishq store.
You will find shelves full of the latest designs of necklaces, rings and bracelets.
Gold, silver, platinum or diamond, Tanishq offers every precious stone in a multitude of options. And their products are inspired by every part of India and the world.
Plus, whenever you buy a Tanishq product, you can consider it an investment. Because you are getting pure products, at just prices.