Chime, a mobile banking app, that is giving many traditional banks a run for their money with its innovative features and no fees. One thing that makes Chime even better are the exclusive designs that come on selected Chime cards. Chime offers cool and feel-premium cards like the Chime Metal Card which is available only for Chime Credit Builder Card. It has also released the exclusive limited edition Chime Metal Black Debit Card (not offered currently). In this post, we talk about the various Chime Card designs and how to get them, including if you can get a personalized Chime Card.
Chime Card Designs
Chime has been going with standard clean designs for its card choosing a white color for Chime Debit Card and a green color for its Chime Credit Builder Card. These are the standard designs that you will get when your apply for Chime Card.
Note: Chime is a financial technology company, not a bank. Banking services provided by The Bancorp Bank or Stride Bank, N.A., Members FDIC. The Chime Visa® Debit Card is issued by The Bancorp Bank or Stride Bank pursuant to a license from Visa U.S.A. Inc. and may be used everywhere Visa debit cards are accepted. Please see back of your Card for its issuing bank.
Chime Debit Card- White Colored Plastic Card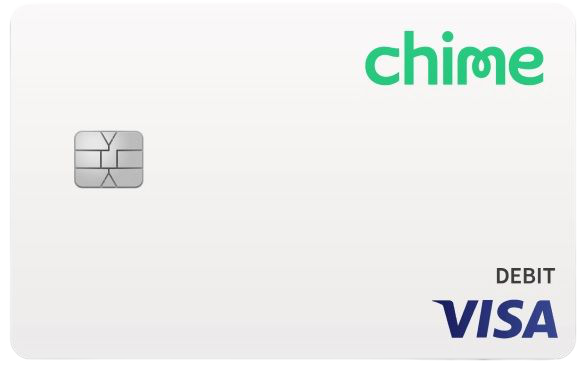 Chime Credit Builder Card- Green Colored Plastic Card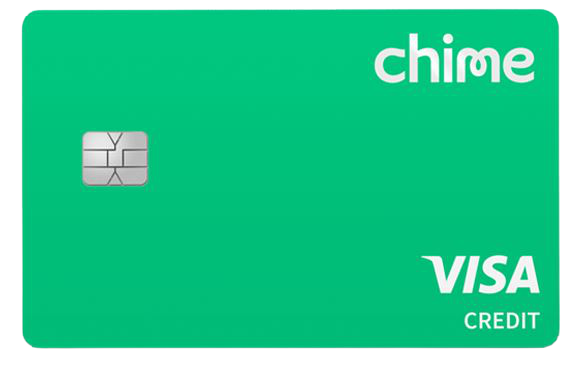 Chime Metal Card Design
Chime has also premium limited edition metal card designs- Black Metal Card design for Chime Debit Card, which was introduced in 2019 for a promotion campaign, but is no longer offered (sadly). And the Green colored Metal Chime Credit Builder Card which you can still get by completing set number of purchases within 60 days (see more details below)
Chime Debit Card- Black Colored Metal Card
The Black Chime Metal Debit Card was introduced way back in March 2019 as a limited edition and has not been repeated yet. As a part of the promotion, the Chime Metal Black debit card was offered only to those Chime Members, who referred at least 5 people to sign up for a Chime Account within a certain period.
Below tweet from Chime promoting the Chime Metal Black Debit Card in 2019. The black card had a simple but elegant feel to it. It was only issued to 5000 members, as a part of the campaign.
Considering that many people will still love to get hold of this black card design, we hope that Chime will re-introduce this. But it will be safe to say that if this promotion is ever done again, the eligibility criteria will be a lot more tougher, as Chime has grown tremendously since 2019.
But if you are looking for a metal card, you can still get this if you apply for the Chime Credit Builder Card which continues to be offered (in Green Color only). But you need to complete a good number of transactions to get this.
Chime Credit Builder Card- Green Colored Metal Card
The Green Colored Chime Credit Builder Card is the only Metal Card that is currently available. For this, you need to sign up for the Chime Credit Builder Credit Card which is a Secured Credit Card, you will get a plastic Credit card initially, you need to make 40 transactions within a period of 60 days to be eligible to get the premium metal card, which will replace the plastic one.
How to Get a Metal Chime Card
In order to receive a Metal card, you must sign up for Credit Builder. Once it arrives in the mail, activate your plastic Credit Builder card and you then make 40 purchases on it next 60 days to qualify. Once you do, we'll Chime will send you the brand new metal card
The 40 purchase can include your daily transactions. Chime gives you the ideas and tracker once you sign up and begin the journey to metal card. You can use it on food delivery apps like UberEats, DoorDash etc. and even on your monthly subscriptions like Netflix and Amazon to be on the journey towards a shiny new metal credit card.
Can I Get Personalized Chime Card?
Chime does not offer any personalized card at the moment. The only distinct card you can get is the Chime Metal Card, which is a standard design metal card with a more premium look and feel, instead of plastic card.
While Chime does not offer personalized designs, it has encouraged users to use their own creativity and customize the Chime Debit Card look. In fact, it ran a promotion #MyChimeCard where users were to personalize their Chime Card and submit the entry for the best card design, based on originality, creativity, composition and quality. It seems the white background on Chime Card works perfectly as a blank canvas to express your creativity.
Here are facebook posts from Chime that gave out some of the winning entries. It is actually a treat to see the amazing designs that came out and would be really cool if any such designs were offered by Chime. But then again, everyone has their own tastes and it seem Chime is working on premise that the users can best decide for themselves.
Wrap Up
Chime Cards have a simple but elegant look- whether it is the standard plastic card or the metal Credit Card. Unfortunately, there are no personalized cards available, but you can use your creativity and imagination to customize your Chime Card in your own way.