If you bank with PNC and face the issue of PNC not working with Plaid, you are not alone. This is a common problem that is being faced by a lot of users when attempting to link their PNC accounts to financial apps via Plaid. In this post, we will look into the core question-does PNC work with Plaid, the reasons for you not being able to connect PNC with Plaid along with workarounds, and alternatives.
PNC does not offer a stable connection with Plaid and you may not be able to link your PNC account via Plaid on certain financial apps. While there is no clear official answer, the reason seems to be due to PNC security requirements for which they are working with various financial apps and aggregators involved.
This can be a really frustrating issue and has even caused many to jump ship to other banks, even those who are long-term customers of the bank.
But you may not have to go that route. Despite this issue, there are some workarounds and ways you can still connect your PNC account to financial apps. We will explore the complete details in this post.
Does PNC work with Plaid? [Getting into details]
PNC does not offer full-fledged support with Plaid. You may not be able to link your PNC bank account via Plaid on many apps and the connectivity can vary on a case-to-case basis and account-specific issues.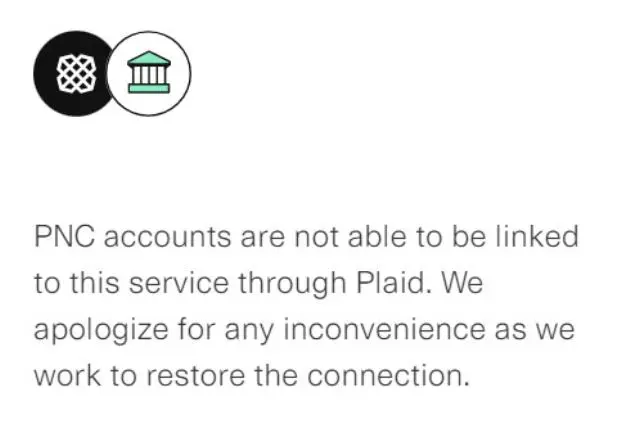 It is assumed that PNC is blocking Plaid on certain financial apps based on its security requirements. PNC has also had a checkered history with Plaid as they have sued Plaid over alleged trademark infringement.
Hello, Ben. We are working with financial apps and their data aggregators to make changes needed to accommodate our security requirements. We appreciate your patience as we work with them to make changes, which are solely intended for our customers' protection. 1/2

— PNC Bank Help (@PNCBank_Help) September 21, 2021
You may also face this issue randomly like a Connectivity Down Issue where you were able to previously link PNC via Plaid on an app, but it is not working anymore. In such cases, try removing the PNC account from the app and re-attempt the connection. This can sometimes solve the issue when it is a temporary technical problem.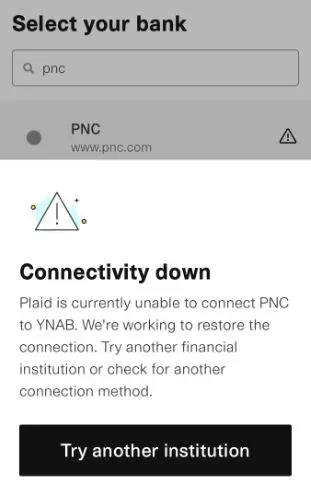 You can also try connecting with PNC Support Twitter handle –@PNCBank_Help where they are quite active and attuned to such queries for quick response.
While security is a valid concern, Plaid works with more than 1100 financial institutions and is a reputed network. Though there have been privacy issues and people don't like to share their data with third-party financial services.
As a long-term solution, it is always better to use a separate bank where you hold a small balance and that offers a stable connection with Plaid (apart from the main bank account). This way you can link with financial apps and avoid worrying too much about privacy and security issues.
But even if you want to stick with PNC, there are ways to connect your PNC account with financial apps without going through Plaid. These are often concealed and may not appear prominently.
Let's dig into the details of all these ways.
How to link PNC account with apps without Plaid
Way 1-Link your PNC account manually
While most apps offer connections via Plaid, you also get an additional option to link your bank account manually using the bank routing number and account number. e.g. Robinhood, Venmo -this is one of the ways you can connect your bank account with Venmo manually without using Plaid.
This is often to address the issue of user banks that do not support Plaid.
Though this takes more time and is not immediate like Plaid, it is a one-time process. Here the app will verify you as a bank account owner using manual micro deposits and require you to confirm.
You can find these details on PNC Mobile App
Sign on to the PNC Mobile app.
Select your account which you want to connect, then go to Account Actions and
Select Account and Routing Numbers.
Verify your identity by entering a one-time passcode to view your full account number and routing number.
If you don't see this option on your financial app, first check with the customer support team to confirm if they allow you any ways to link an account without Plaid. This option is sometimes not visible as it is not that prominently displayed on the app with the recommended option being Plaid.
Way 2- Use the PNC debit card instead
Many financial apps also give you an option to link the debit card associated with your bank account. e.g. Cash App
Adding a debit card does NOT need Plaid and achieves the purpose of linking the bank. You only need to enter the card details like number, expiry date, etc. when prompted to verify.
But keep in mind adding a debit card and bank account may or may not be equivalent in terms of features or support offered depending on which financial app you want to connect to.
Alternative banks that support Plaid
If you are looking for banks that support a stable Plaid connection, you can consider alternate options
Online Banks
Chime -works with Plaid (Financial technology company, that has banking partners The Bancorp Bank or Stride Bank, N.A)
Varo
Discover
Ally Bank
Capital One
Brick and Mortar Banks
Chase
Bank of America
Wells Fargo
You can also check the list on Plaid (although this does not seem to be exhaustive)
Wrap Up
So while you may run into issues trying to link PNC via Plaid, there is no black or white answer for this issue. It makes sense to have a backup banking option if you use a number of financial apps that require Plaid (Chime is one good option, read more about it in this guide). Or you can use any of the ways to link your PNC bank account with Plaid. Hope this post was useful. Let us know your queries or experience with this in the comments.