In recent years, concert prices have soared to astronomical levels and fans are spending more money than ever before. Budget conscious consumers are left with limited options and many have even stopped attending gigs.
Unless you are living under a rock, you would have heard of Ticketmaster, the largest ticket broker that offers tickets to most concerts and sports events through its online platform as well as over the counter. The company is based in Beverly Hills, California, and operates in over 32 countries.
Ticketmaster sells tickets directly to consumers, and the website allows fans to get premium seats with hassle free tickets that can be fulfilled digitally. Now, they cater to all shopping styles, from the big spenders to the budget-conscious.
And Yes, as the world's largest American ticket sales and distribution company, TicketMaster does offers a Buy Now Pay Later (BNPL) option at checkout.
Enough of introduction, let's jump right in to the meat of the article:
Does Ticketmaster Accept AfterPay?
No, the famous Australian fintech company- AfterPay known for its Buy Now, Pay Later (BNPL) service is not a payment option yet on the USA Ticketmaster website. But Ticketmaster does accept other BNPL options like Klarna.
But if you are an AferPay fans, you don't need to throw in the towel yet. There is still an option for you to be able to use AfterPay on TicketMaster, you just need to use a hack.
How to use AfterPay on TicketMaster?
If you have the AfterPay Plus card, you can use it to perform transactions at just about any merchant including buying tickets at TicketMaster
AfterPay is bit selective when it comes to giving you access to the AfterPay plus card.
It appears to be an invite only option. But it's totally worth it if you want to maximize avenues to use AfterPay. If you are eligible, the option to get this card automatically pops up in the app.
The best thing with AfterPay Plus Card is that you can add it to your Apple Pay Wallet and use it just about anywhere Apple Pay is accepted.
Obviously, factors like a steady shopping and credit history with AfterPay can help improve your chances. If you are a mint member of AfterPay, this may open up the AfterPay Plus Card option.
Klarna Vs. Afterpay _What's the difference?
Both Klarna and Afterpay are extremely popular BNPL options. You can shop at their partner stores, online, or even in person.
With Klarna, you pretty much get the same flexible payment to slice the cost of your ticket purchase into four manageable instalments
Log in to the USA Ticketmaster website and find the concert you wish to attend. Select your event date and city and then make your seat selection. Go to your cart by clicking "Next," and under "Payment," Select "Klarna."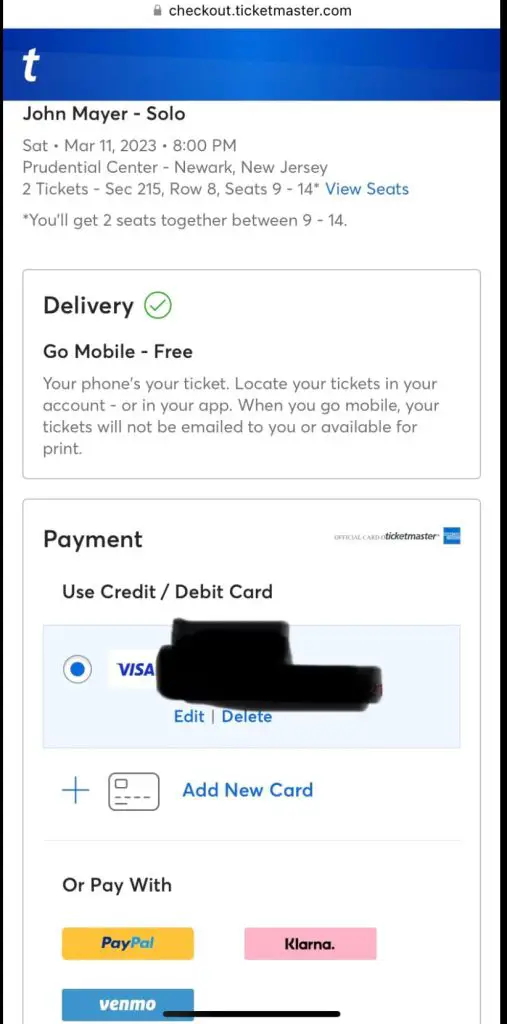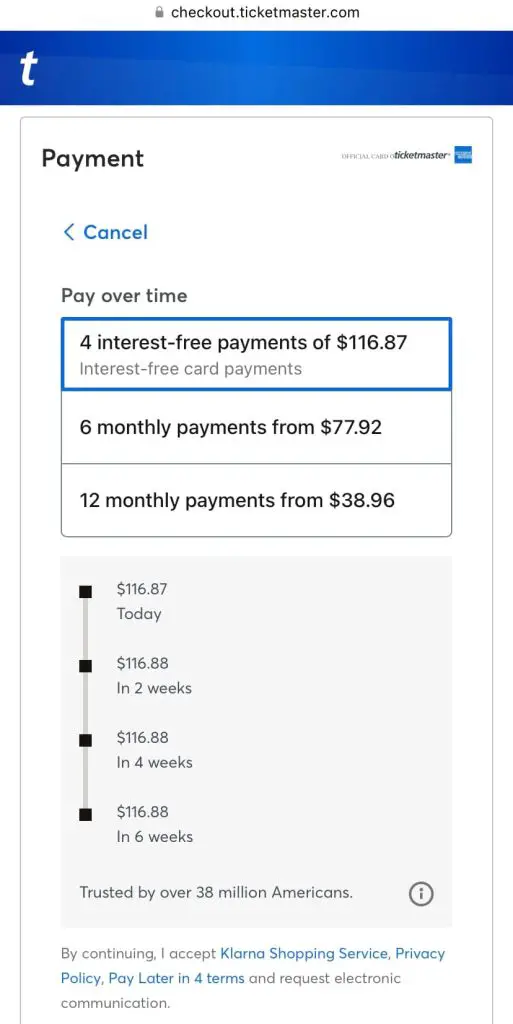 Here is a breakdown of what to expect with Klarna.
Option 1— Pay-in-4: Split the cost into four interest-free payments over six weeks; Pay 25% down and the rest is paid every two weeks.
Option 2— Pay Monthly: Receive items today and take up to 30 days to pay them in full.
Klarna and Afterpay offer extended payments as well. Afterpay has a 6 to 12-month interest-based repayment option for items over $400. Klarna has partnered with WebBank to offer a "flexible financing" option allowing you to split your bill into monthly payments for six months or up to three years.
Your application decision with Klarna is immediate. The approval decision does include a soft credit score check, but it will not affect your credit score.
Klarna is however known to be stingy and unpredictable when it comes to your Klarna Purchase Power.
Other Buy Now Pay Later Options that work at TicketMaster
Apart from Klarna, even other BNPL apps Zip and Affirm are also known to support buying tickets at TicketMaster.
Wrap Up
There's a lot to consider regarding the overall concert experience, but with these flexible payment options, you have one less thing to worry about while on your way to making everlasting memories.