If you are looking to know how to use Apple Pay at Gas Stations, this guide will walk you through the steps and provide some helpful information on what gas stations support Apple Pay.
You don't want to spend a lot of time at a gas station. And Apple Pay can help you achieve that by speeding up the process to pay for the gas. It not only saves time but is also quite convenient, once you get the hang of it.
First things first, Apple Pay is accepted at all major gas stations that include Shell, Costo, Chevron, Exxon, Wawa, Arco, etc.
Apple Pay works using NFC technology. So all gas stations accepting Apple Pay will have the "Tap to Pay" symbols displayed on the gas pumps (Apple Pay logo or the NFC wifi symbol)
However, you may run into gas pumps that do not provide the Apple Pay option. This is more to do with the local pump owner than the company.
How to pay using Apple Pay at Gas Station? You can pay with Apple Pay at the gas station by holding your iPhone near the NFC reader at the pump which will launch the Apple Wallet automatically, authenticate yourself using touch id or face id, and follow the on-screen instructions to complete the payment.
Alternatively, you can also download the respective Gas Station App (where supported), then add Apple Pay as the payment method and complete the payment in-app.
Let's see the detailed steps to do this.
How to Use Apple Pay at Gas Station [Steps]
Way 1: Using the NFC reader at the Gas Pump
Step 1: Line up your vehicle against the gas pump
Step 2: Look for the Apple Pay logo or NFC symbol (Wifi symbol- usually in white font on black background) on the gas pump which means that you can pay using Apple Pay.
Step 3: Hold your iPhone against the NFC symbol which should open up the Apple Pay app automatically on your iPhone.
Step 4: Depending on the iPhone, you can verify using the Touch Id, Face id or pass code to authenticate yourself which activates the pump.
Step 5: Next follow the instructions on the pump screen display and proceed with filling the gas, once it gives you the message.
This works for all gas stations accepting Apple Pay.
Way 2: Using Apple Pay as the payment method in the Gas Station App
There is another method that works at certain gas stations where you can complete the payment using the gas company app. Many companies have their own apps which you can use to fill the gas and make the payment- like Exon Mobile Rewards+ App, Shell Speedway App (using Pay at the Pump), BPme: BP & Amoco Gas Rewards App.
For this, download the respective gas station app where you will fuel and complete the sign-up, add Apple Pay as a payment method in the app and then complete the payment using the app, without having to use the NFC reader on the gas pump.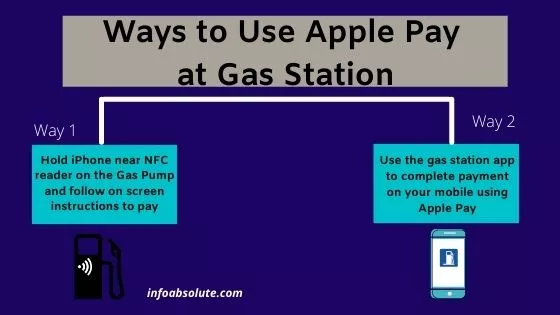 Exxon and BP have apps that allow them to use ApplePay within the app. The Exxon app allows you to scan a QR code at the pump.
How to Use Apple Pay at Exxon Gas Station
Step 1: Download Exon mobile app & Link your Apple Pay as payment method in it . Steps -After downloading the Exxon Mobil app, tap on "Account," then scroll to "Payment method" option. Select "Add a new payment method" and choose "Apple Pay."
Step 2: Be sure your Apple Card is set as your default card with Apple Pay in the Wallet app
Step 3: Allow the app to access your location when you're using it
Step 4: When you're near a gas station, select "Pay Now" in the drop down menu on the app
Step 5: Select the pump number you're at and then it should authorize.
It will automatically charge your card the correct amount after you're done filling up.
How to Use Apple Pay at Shell Gas Station
Shell Pay at Pump is a mobile fuel payment feature available in Shell App. Using this, you can pay for fuel using your mobile quickly from your car without needing to use the reader at the gas pump. It is available at most Shell stations. Follow the steps below to use Apple Pay within the Shell app to make payment at a gas station:
Step 1: Download Shell app and add "Apple Pay" as payment method in it
Step 2: Once you enter the pump and line your car against the gas pump, open Shell App and confirm the pump number
Step 3: Select your payment mode as "Apple Pay" for your fuel quickly without queuing up in store
Step 4: Wait for the 'Start Fuelling' message to appear.
Step 5: Proceed to Fill Up the fuel and the charge gets debited automatically from your selected payment method after you are done filling up
How to use Apple Pay at Chevron Gas Station
You can use Apple Pay by the normal method by holding your iPhone or Apple watch near the Apple Pay Logo or NFC symbol on the gas pump. This triggers the Apple Pay app, authenticate using touch id or face id and then follow any instructions on-screen at the gas pump.
While Chevron does have its own app, it, unfortunately, does not allow Apple pay to be added as a payment method as of now.
Also Read: How to use Apple Pay in Store [Easy to follow Guide]
How to use Apple Pay at BP Gas Station
You can use Apple Pay at a BP gas station using their app. Download the BPme Rewards gas app on your iPhone, open the gas app and & add "Apple Pay" as a payment method. You can check-in at participating BP or Amoco gas stations on the app, once you enter the gas station, select your fuel pump from the comfort of your car.
Also, remember that some of the gas stations require you to pay with your debit card when you use Apple Pay. For example, most ARCO gas stations accept Apple Pay only when a debit card is used.
Paying with Apple Pay (using Apple Cash) at Gas Station
While using Apple pay at a gas station using the swipe method, you may choose to use Apple Cash as a payment method, instead of a linked Credit Card or Debit Card. While this method works well, do note that you have sufficient balance in your Apple Cash account to cover any hold charge.
Hold charge is a way of checking if you have an adequate balance in your Card (As Apple Pay works just like a Debit card) which puts a temporary on your balance for an amount that can be much higher than fuel you have filled. This hold charge gets reversed later and only the amount payable for the fuel is actually debited.
WRAP UP
So there you have all the easy ways to use Apple Pay at a gas station. You can either use the NFC reader at the pump or make the payment within the gas app (if the gas company offers one) using Apple pay as a payment method.