Planning to rent a car with Chime? Hold on tight! Here's the scoop on whether you can use the Chime Credit Builder Card or Chime Debit Card at a car rental. Spoiler alert: it's a bit of a tricky situation.
It took us a a good bit of research as the answer is not as straightforward as it seems.
Do popular car rental companies like Hertz, Budget, Enterprise, Avis, etc. work with Chime Debit or Chime Credit Builder cards?
In a nutshell:
Enterprise has a better acceptance rate of Chime Cards, compared to peers.
Avis does not accept Chime Cards for car pick-up, but only for payment at the time of car returns.
Hertz and its group companies i.e. Dollar Rental and Thrifty are currently NOT supporting Chime, but you may be lucky, depending on the location.
Budget offers limited acceptance to Chime
Sixt does NOT accept Chime
Turo Officially Supports Chime
If you want to save yourself the trouble, always have a backup plan like an alternate credit card, in case you are not able to get your Chime Card accepted. Don't rely on it as the only option.
In this comprehensive guide, you will get the complete picture along with the complexities involved.
Using Chime Card for Rent-a-Car- Important Context
Car rental companies can be picky about which payment methods they accept, including the Chime card. Sometimes, they may accept it, and other times they might not, depending on the location and demand. There are also different policies for the airport and non-airport locations serviced by these companies.
Companies like Enterprise and Turo are your best bet.
It's best to check ahead of time. You could try calling the specific location.
The best way to save yourself a headache is to have a backup payment option in case Chime doesn't work out.
Nowadays, even car rental companies that previously accepted Chime have had users complaining that it is not being taken. You can also check this article on how increasing fraud concerns have recently impacted the acceptance of Chime Cards at major car rentals.
As a result, users can have different experiences using the Chime Card with the same car rentals across locations. Unfortunately, there is no straight "Yes" or "No" answer.
Here we tried to give you all the details based on the available responses from Chime users and our own research. It ultimately boils down to which location, which card-debit or credit, and which vehicle.
Chime Credit Builder Card vs Debit Card for Rentals
Another important detail we are going to cover is whether you can use the Chime Credit Builder Card or Debit Card.
Car rental companies, like the big dogs Enterprise and Hertz, typically accept major credit cards, which should include Chime's Visa-branded cards.
Usually, you will have better luck using a credit card compared to using a debit card at car rentals. The Credit Card is more widely accepted since it is NOT capped by your bank balance.
But using a credit card is not always a guarantee, especially with Chime's Credit Builder Card. It's a secured prepaid card, which means you can only use the funds that you already have. This can make things a bit complicated when you're trying to rent a car.
Using the Chime debit card may be more feasible, but it's not without its own hurdles. Some rental locations may not even accept debit cards, or there may be certain vehicle types that they won't accept them for. You will also have some car rentals having some age restrictions to be able to use a debit card. Plus, you could be hit with temporary hold charges that could potentially cause an overdraft if you use Chime SpotMe. Talk about a bumpy ride!
In the end, whether you're using Chime's credit or debit card, just make sure you've got enough cash in your account to cover any charges. Otherwise, you could be in for a real shock when you see your balance. So, buckle up and hold on tight!
While the Chime debit card can be accepted, the checks are more stringent here. You may also be required to bear temporary hold charges that hit your Chime's bank account balance and can even cause an overdraft (if you use Chime SpotMe).
So in fact using Chime Credit or Debit Card, you also need to make sure you have enough balance to cover the hold charges.
With that context, let's check which car rental companies are currently accepting Chime.
Car Rental Companies that Accept Chime
Car Rental
Company
Accepts Chime
Enterprise
Can work mostly. It may not be accepted at some locations
Hertz
Mostly no. May work at some locations
Budget
Mostly no. May work at some locations
Avis
Mostly no. May work at some locations
Sixt
No
Turo
Can work mostly
Does Budget Accept Chime Credit Card / Debit Card
While Budget used to support Chime, it currently does not accept Chime Cards. There have been many reports from many users who have not been able to use Chime recently.
However, this may be a temporary issue, as there is no official communication from Budget regarding any specific policy on the use of Chime Card, on their website.
If you are intending to give it a try to use your Chime Debit Card, you can first check the "Debit Card Policies" of the particular location where you want to use the Chime Card. You can find the location using the Budget website finder and select the city from the list.
As per its official site information, Budget accepts a Debit Card of the Visa brand (which should cover Chime Debit Card) =>
You are at least 25 years old
Temporary authorization hold charges
Some locations do NOT accept Debit Card at the time of reservation. For this, you can check the debit card policies of the respective location.
In case your location is willing to accept Chime Debit Card, make sure you have enough balance in your Chime account to cover the deposit and hold charges.
Budget will put a hold on your debit or credit card at the time of rental to cover estimated charges plus up to $300.
This limits the funds available in the account associated with your card till the time the car is returned. The minimum hold amount is $100.
Does Enterprise Accept Chime Debit Card / Credit Card
In general, Enterprise rental car outlets accept both the Chime Debit and Chime Credit Builder.
Many users have had a better success rate in getting their Chime Cards to work at Enterprise Car rental, as compared to their peers.
However, it may not be accepted at all locations. You may still run into locations that flat-out refuse to take Chime.
You can use the Chime debit card as well, but it is always better to use Chime Credit Builder Card since deposit refund is also fast.
Moreover, there are several conditions attached if you want to use the Chime Debit Card, like a $200 hold, and also requires you to provide additional identity verification.
If you are using the Chime Debit Card at an airport location, it is even more stringent.
Does Hertz Accept Chime Credit Card / Debit Card
Hertz Car Rental is currently not accepting Chime Credit Card or Debit Card, at most of its locations.
As per its policy, Hertz accepts all major VISA credit and debit cards. However, there are many people out there who say that their Chime cards were denied by Hertz.
There is no official communication to confirm the position if Hertz accepts Chime credit cards on its website. However, this has been confirmed when replying to queries on their Twitter handle (See below)
Even if you find a Hertz location that accepts Chime, do keep in mind the high hold charges. Hertz requires a pre-authorization hold of $500 on debit cards before giving you access to its rental cars. And if you are planning to use the Chime Credit Builder Card, the hold charge is still $200.
Does Hertz accept a Chime Credit Builder Card?
There are many comments on social media platforms like Reddit and Twitter that their Chime credit builder cards weren't taken by Hertz. Here is one, where the Hertz team has responded that they do not accept Chime Credit Cards.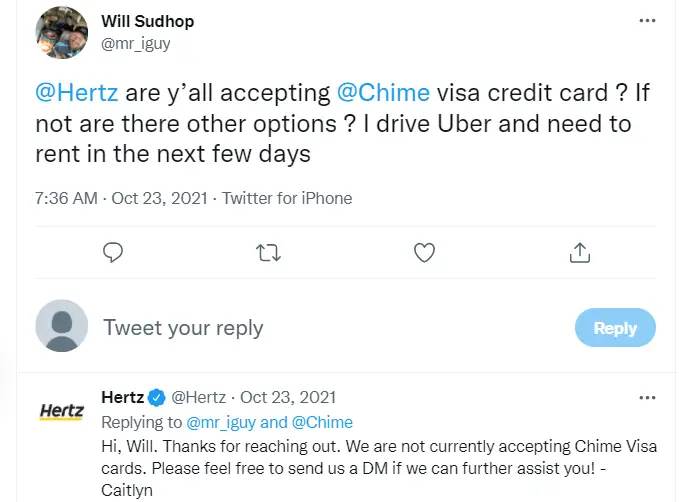 This Hertz policy extends even to the Chime Credit Builder Card, as it is a secured / prepaid credit card.
Thanks for reaching out to us Daedre ! We do not accept secured or prepaid credit cards. -Tonya

— Hertz (@Hertz) May 3, 2022
Does Dollar Rentals Accept Chime Cards
Dollar Rentals may not accept your Chime Card at the moment. It has allowed users to use the Chime Card in the past.
Dollar Rental is a part of the Hertz group, so they may follow the same practices.
There have been some complaints from users on not being able to rent a car with their Chime Card at Dollar rental.
However, there is no official communication on the Dollar rental website on their policy regarding Chime Card acceptance.
You can give it a try. If you are planning to use the Chime Debit Card, make sure you go through their Debit Card policies.
Does Thrifty Rental Accept Chime Cards
Thrifty does not seem to accept Chime Card, but there is no official communication on their website with regards to acceptance of Chime Card.
Again Thrifty is a part of the Hertz group. You can still give it a try at your location.
Thrifty does accept debit cards subject to certain conditions, including credit checks and restrictions on vehicle type.
Does Avis Accept Chime Cards
Avis does not accept Chime for car reservations but can take Chime Cards, for the final payment after you return the car.
Recent reports from various users have been that Avis does not accept Chime at the time of pick up.
There have been replies from the official Twitter handle of Avis to users, saying they no longer accept Chime Cards due to higher fraud cases.
Does Sixt Accept Chime Cards
Sixt specifically mentions that it does NOT accept Credit / Debit Cards of domestic online banking institutions which includes Chime.
Sixt does not accept the following payment methods
Prepaid cards or gift cards
Visa Electron cards
Electronic use only cards
Maestro cards
Checks
Cash and cash apps
Credit/Debit Cards from domestic online banking Institutions (e.g. Chime)
Does Turo Accept Chime
Turo is one of the few car rental service providers that accept Chime. Chime debit cards are included in the official list of payment methods supported on their website.
Many users have been successful in renting a car on Turo using the Chime Card.
Payment methods supported by Turo include
Most credit cards issued by major financial institutions, including American Express and Discover
Non-temporary debit cards with a Visa or Mastercard logo that are linked to a checking account.

Includes debit cards from online banks, such as Chime, Ally, and others
Wrap Up
So as you can see, using your Chime Card with popular car rental providers is a bit of a hit and miss. Always have a backup plan so that you don't get stranded. Your best bet may be Enterprise, among the popular rentals. You can also try Turo if it suits you.