Facebook recently released a cool new feature called Avatars which gives you the ability to create your own personalized avatar. Facebook Avatar is nothing but an animated cartoon image of yourself. In this guide, we are going to cover all the details on how you can make your own Facebook Avatar using Facebook App on Android or iPhone.
You can even use the Facebook avatar in your profile picture or send it as a sticker to your comments. It adds a personal digital feel to your messages and profile.
At the same time, you don't need to worry about the privacy part. Most people would be more comfortable sharing an avatar image than your actual image.
In fact, once you create your avatar, Facebook automatically creates a collection of stickers using your avatar which you can use for a variety of occasions. You can use these stickers to send personalized messages to your family and friends.
Update January 2022: Facebook i.e. Meta recently rolled out 3D Avatars and has also added new customization options for the Facebook Avatar like Cochlear implants and over-the-ear hearing aids (for one or both ears). You can also get to use your Avatars in Instagram stories, probably a step towards the MetaVerse that Facebook intends to build. You can also get the Avatar option on Instagram if you click on Settings->Account->Avatars, which has been rolled out in countries like the USA, Canada, and Mexico.
Facebook Avatar Not Working 2022
Before you start making Facebook Avatar, make sure you have the latest version of the Facebook App on your mobile. Many times, the option of creating an avatar is not available or not working if you are using an older version of the app.
Also, make sure you are NOT using the Facebook Lite App as it does not show this option. It is also not showing on the Facebook website (Desktop). Not even on m.facebook.com. It is available only on FB's main app.
Some other settings to check in case you are still not able to get the Facebook Avatar option:.
Make sure you are using the latest version of the app. Check-in Playstore or Appstore to confirm if your Facebook App is updated
If you still don't find the avatar option, go to the "Manage Apps" option in your mobile settings and "Clear Cache" on Facebook App
If you have made an update to Facebook, try logging out and re-login to see if the Facebook avatar options show up
Try allowing "Location access" under Facebook Settings-> Settings & Privacy" -> Settings->Location and see if this works
How to Make Facebook Avatar
Step 1: Go to Facebook App-Home Screen and tap on three horizontal lines to open the menu


Step 2: If you see the Avatars icon, tap on it and move to Step 4. In case it is not visible, scroll down and tap on the option "See More".



Step 3: Next tap on Avatars under "See More"


Step 4: Follow the avatar-making guide to customizing the Avatar's Face
Alternatively
1. Go to Facebook Comments
2. When you make a comment, tap on the smiley icon and select "Stickers"
3. Under Stickers, you will find an option "Avatar"
Unfortunately, you can't use your existing image or photo to make your Facebook Avatar. But you have to make one from scrap. The only thing FB detects is your Gender from your Facebook Profile to give you the appropriate avatar customization options
But don't worry. The process is actually quite simple, as Facebook allows you to customize almost all the features of your face and body type.
Another thing is while creating your avatar, one useful feature available is also a mirror icon. When tapped, it gives you the option to put on your front camera and check if the avatar is actually working for your features. That way you are not way off the mark.
You can even add gear like hats, specs, and ornaments and select from a range of outfits to make your avatar look great. Guys can sport a beard. Girls can add make-up and ornaments like nose rings, earrings, etc.
Let's see all the various kinds of customization you can do while making an avatar.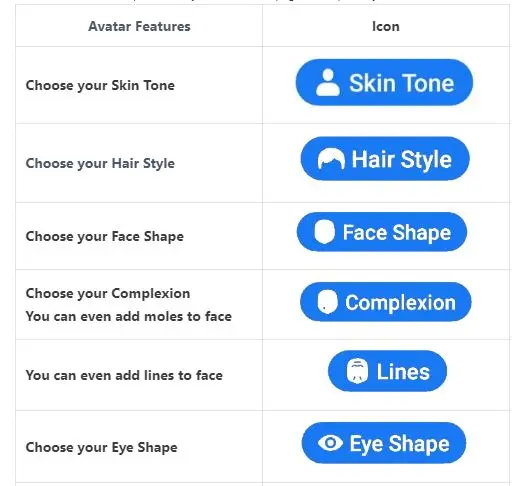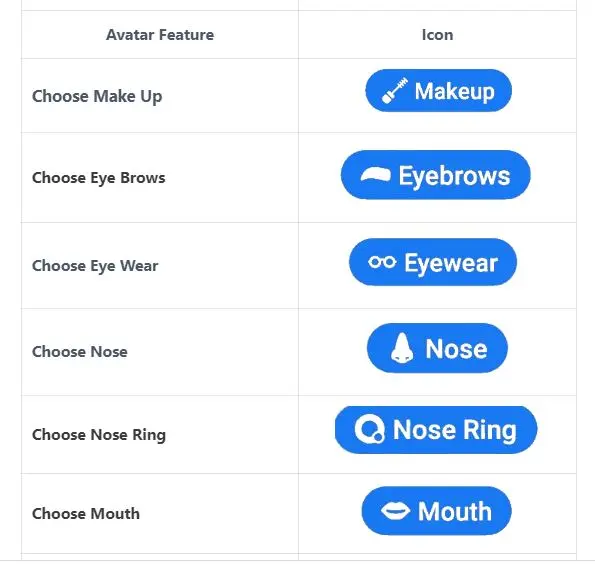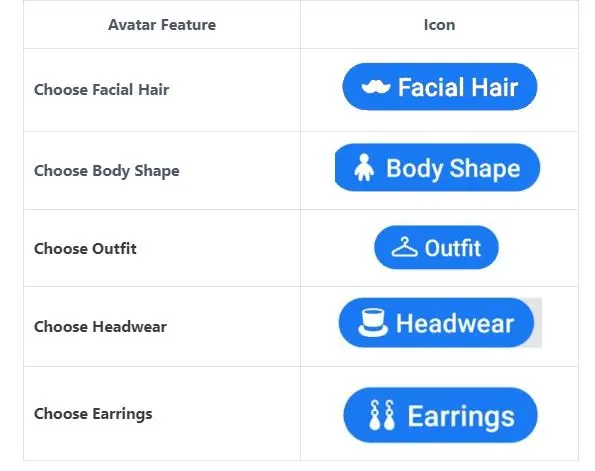 Starting from your skin tone, you can change your hairstyle, face shape, complexion, eye shape, eye color, eyebrows, nose, and mouth, and add facial hair. You can even add details like lines, moles, wrinkles, and freckles to the face using the complexion and lines tab.
And then, there is all the gear and outfits.
But the idea is not to overdo it. Try to keep your avatar an authentic version of yourself that makes you look good.
You can use different versions of your avatar to convey different types of emotions
Also Read: How to Poke On Facebook 2021 [Easy Guide]
How to Use Facebook Avatar
Once you have your Facebook Avatar ready, FB will now give you a ready-made collection of stickers with your avatar. The stickers show your avatar in all kinds of different expressions and can use on a variety of occasions.
You can use Facebook Avatar Stickers in
Comments
Messenger
Facebook Story
News Feed
And even share it on Whatsapp (a Facebook app)
What's more, you can even use your Avatar as a Facebook Profile Picture (you get a separate set of Avatar pics for this). Scroll down below to know more about how to use FB Avatar as a Facebook Profile picture.

Stickers available for some common messages
Hi
Bye
Happy Birthday
Thank You
Good Morning
Good Night
OMG
Good Luck
Yes!
Cool
Use Facebook Avatar Stickers in your Comments
You can insert these stickers in your comments or messages by following the below steps
When writing a comment, tap on the smiley button
Below you will find an avatar icon.
Tap on it to open up the collection of stickers. Select the one you want to use by tapping on it.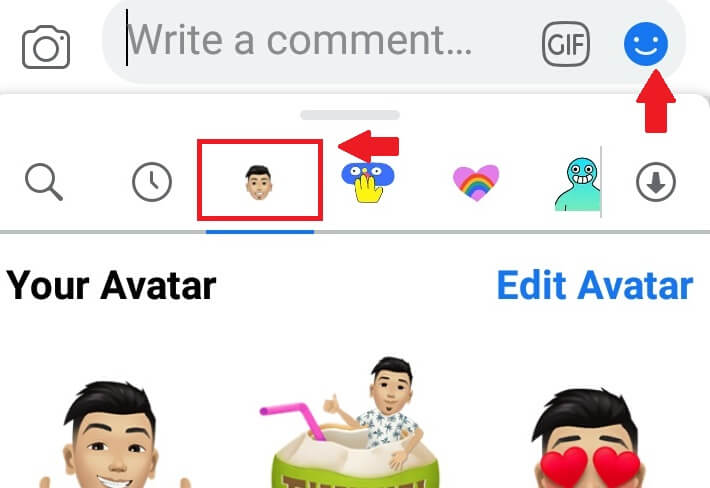 How to Share Facebook Avatar Stickers on Whatsapp
What's more, you can even use your Avatar stickers on FB Messenger, News Feed, Facebook Story, and even on your Whatsapp chat.
Just follow the steps below to share Facebook Avatar Stickers on Whatsapp:
Go to settings and then go to "Avatars"
You will be taken to Avatar's main image page, which gives you 3 icons. The first is Share, 2nd is Stickers and 3rd icon is used to edit your Avatar.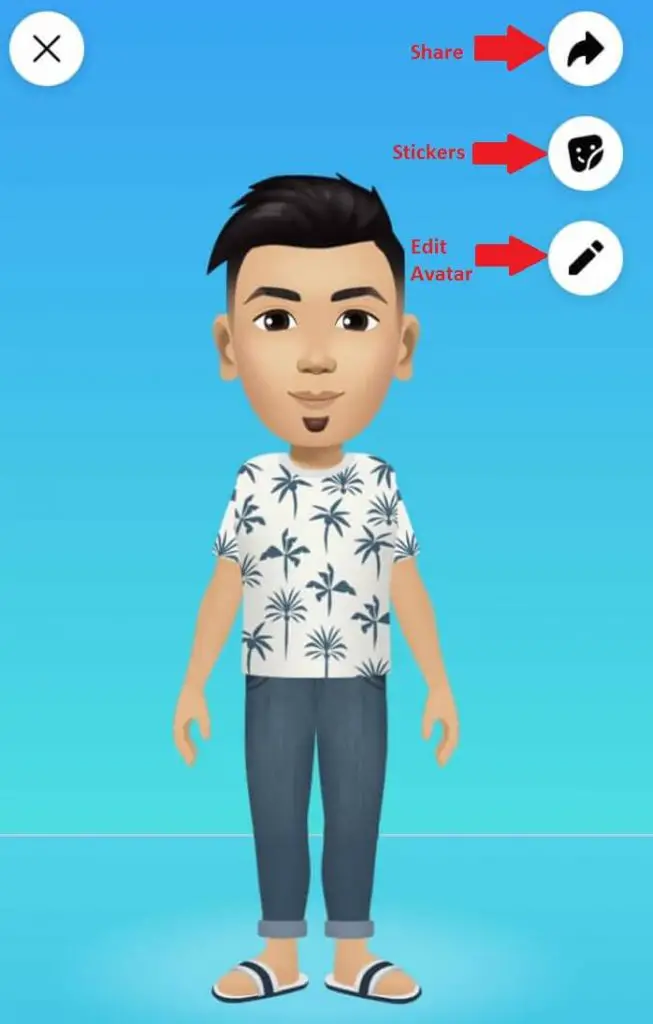 The first option which is Share Icon (arrow icon) gives you options to send "avatar image to Feed" or "Set it as a Profile Picture". You need to select the second option, which is Stickers which takes you to the collection of stickers with your Avatar. And you get two more options – to send a selected sticker in Messenger or click on "More Options". Tap on the More options to get the option to share in Whatsapp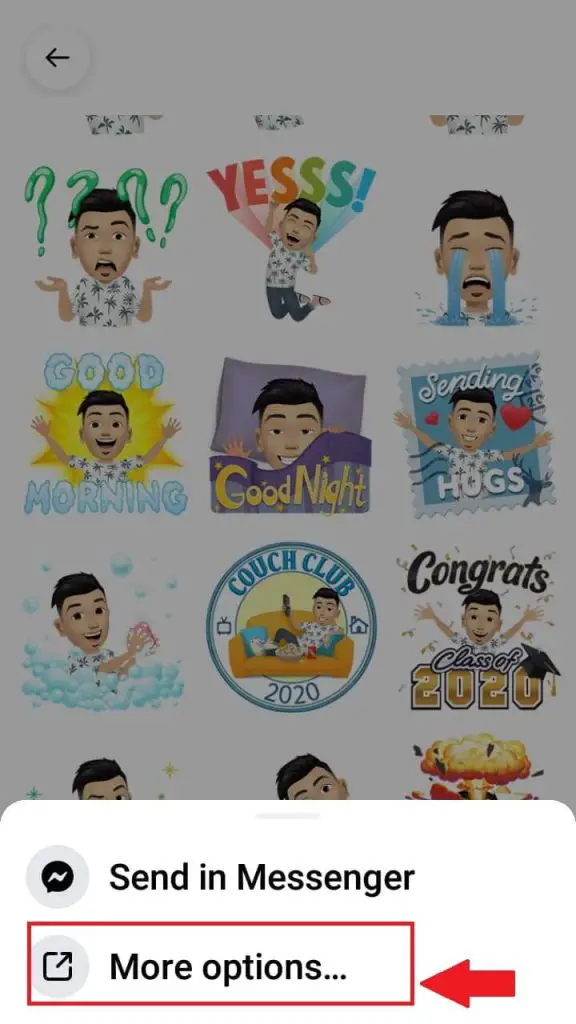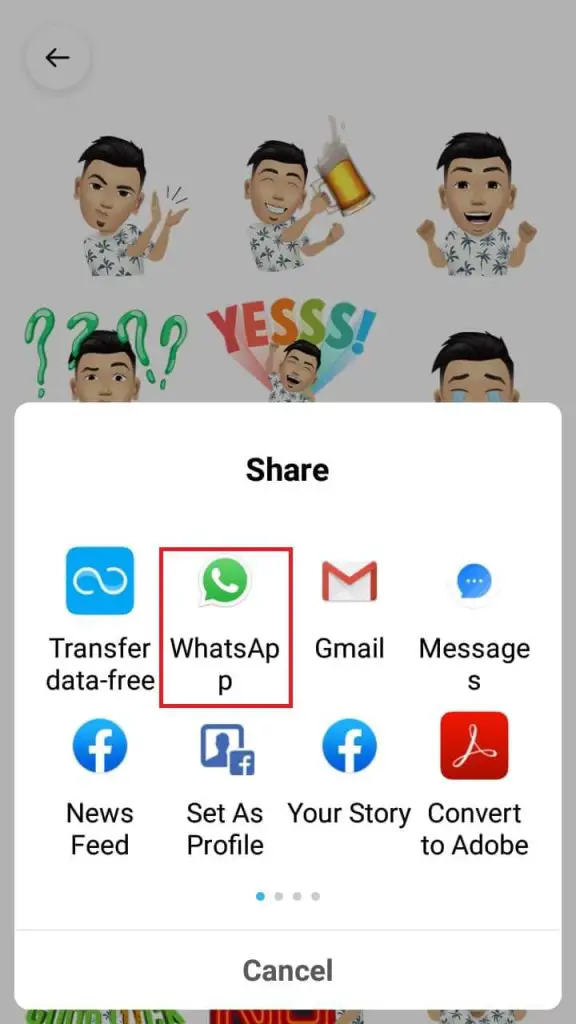 Use your Avatar in your Facebook Profile Picture
You can even use your Avatar Photo as your Facebook Profile Photo. For this, you need to go to your main avatar image (same path as above) and click on the first icon "Share" symbol which gives the option to "Set it as Facebook Profile Picture"
Alternatively, you can just right-click on the existing profile picture and you will see an option to "Make Avatar as your profile picture". Once you tap on this option, it again takes you to the Main Avatar image and you need to click on the "Share" symbol and select the option "Set it as Facebook Profile Picture".
This will give you a set of cool pics with your Avatar in different poses. It also gives your a collection of nice background colors to choose from.
We also have a FB avatar pose with a mask for these times 🙂
Just select the pose and background color of your choice to flash your Avatar as an FB profile pic.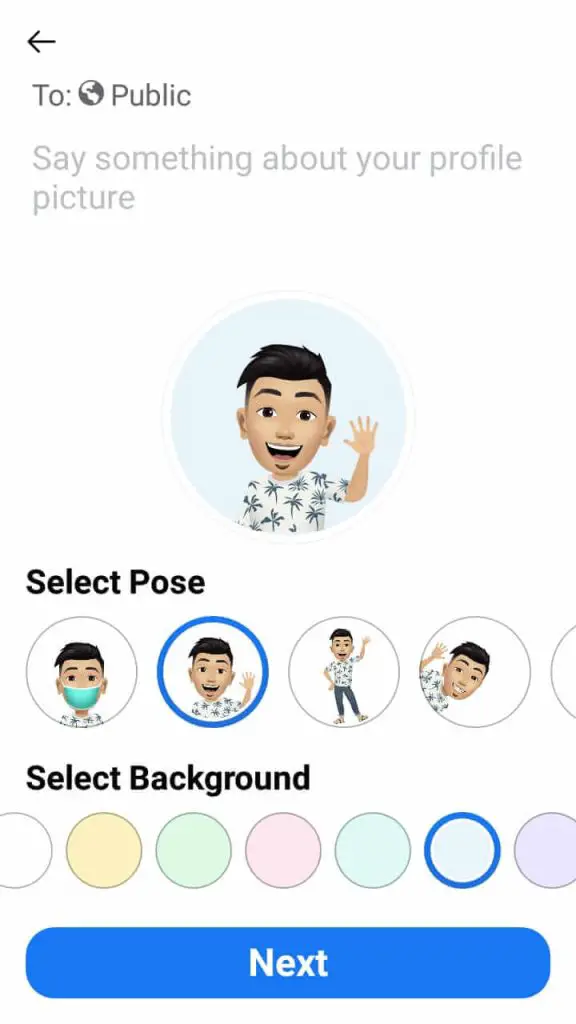 Wrap Up
Facebook Avatar is a great feature if you have access to and use it well. It's really interesting to create and use your personal digital avatar in your interactions on the platform. You can also add spice to your conversations with Facebook Avatar Stickers. Do make sure you have the latest version of Facebook to avoid issues of Facebook Avatar not working.
Hope you have found this guide useful. Do share it with your friends to help get their Facebook Avatar up and ready.