Indraprastha Gas Limited (IGL) is one of the leading suppliers of Piped Natural Gas to consumers for Domestic and Commercial Consumers. If you have an IGL Gas connection, you are often asked to quote your BP number.
So what is IGL BP Number? BP number in IGL is Business Partner Number, which is a unique 10 digit number allotted by IGL to each gas consumer. You can find the BP number printed on your monthly IGL Gas Bill. You need your BP number to log-in at IGL website, make online gas bill payments or for any complaints or queries.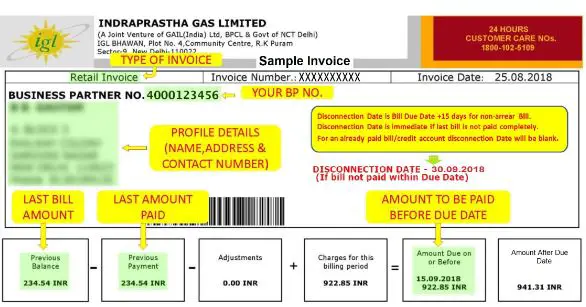 So remember to keep your BP number handy whenever you are interacting with IGL. You can login anytime at IGL Website with your BP number to view your Gas Balance Status or for Prepaid Meter Recharge.
Did you know?
IGL even offers its own official app called "IGL Connect" where you can login with your BP Number. You can use the app to view your billing history, payment history, lodge complaint, view complaint status, submit meter reading, and make online payments.
If you have more than one PNG connection, you can even add multiple BP Nos. in your My Account section in the App.
IGL Customer Care – Toll Free Number for queries
IGL website shows the following customer support information for raising any complaints / queries.
Toll free Numbers:
1800 102 5109
1800 180 5109
Email id-
IGL Email id- [email protected]
IGL Background
IGL is a Joint Venture between GAIL and BPCL which was started in year 1998. It is a listed company in the Indian stock exchange.
It supplies PNG as well as CNG.
IGL has its operations spanning across different areas like NCT of Delhi, Noida, Greater Noida, Ghaziabad and Rewari. It has > 500 CNG stations, 11 lac + residential consumers and 4000 + industrial / commercial customers.
Why PNG?
Nowadays, more and more people are shifting from LPG Gas cylinder connection to PNG connection.
PNG  which stands for Piped Natural Gas, is a more cost effective and cleaner alternate gas.
PNG is mainly made up of methane with a small percentage of other hydrocarbons. Methane is known to be a more cleaner fuel.
Unlike gas cylinders which are more cumbersome to handle and need to be physically delivered every month to your home (as per your consumption), PNG supply to your place comes through a online supply system which consists of safety valves and regulators. It is a regular and uninterrupted connection.
This is more similar to having electricity or telephone connection, which is set-up once and then billed to you based on your consumption. The consumption is calculated based on your meter reading and billed to you.
Authorised IGL staff take the meter readings usually once every two months.
The bills are delivered at the customer's residence. IGL also provide options of e-invoice which you can receive on your e-mail by registering for this facility on their website.
For the bill payments, you can make the payment online on their website or through any of the apps like Paytm, Phonepe etc.
If you have an existing LPG appliance, there are options to convert it to a PNG friendly one by calling the IGL technicians. Generally in such cases, you have to surrender your LPG connection to the respective oil company and get a refund of your security deposit amount. Since as per law, you cannot have both LPG and PNG connection. 
The PNG connection charges will vary depending upon the type of house and applicable installation fees at the time of registration. Here again, you generally need to deposit interest free refundable security deposit to get a PNG connection.