If you are a Venmo user, you may be frustrated by the Goods & Services option turning on, which ends up deducting fees from the payment. In this guide, we will cover all the details and steps on how to turn off the goods and services option on Venmo.
The Venmo Goods and Services option is designed to be used when you are making a payment for a commercial transaction to any person's personal Venmo profile. When this is done, Venmo deducts a fee (1.90% of transaction amount +$0.10) from the amount that you send and the transaction gets covered by Venmo's Purchase Protection Program.
For context, Venmo has two types of profile options- Personal Profile and Business Profile (used by sellers). If payment is made to Seller's Business Profile, it is auto-covered by the Venmo Purchase Protection and is subject to Venmo fees, payable only by the recipient seller.
However, in case you are making a payment to a seller's Personal profile, you as a person initiating the payment can toggle on the Goods and Service option to identify the payment is for a purchase. This enables Purchase Protection and Venmo will deduct the fees accordingly.
Not only that, the receipt can be reported by Venmo as income for the recipient's tax purposes (issuing Form 1099K if it total amount exceeds $600 annually for the recipient)
Now, the problem arises where the transaction was purely personal and you have accidentally toggled on the Goods and Service option. This could inadvertently cause the fees to be deducted from such transaction amount and the payment will be treated as a business receipt for the recipient.
With that context, let's see how to turn off the goods and services option when making a payment on Venmo.
How to Turn Off Goods and Services on Venmo
To turn off the goods & services in Venmo, make sure the "Turn on for purchases" option is toggled off (i.e. moved to the left) when you are initiating the payment for personal transactions on Venmo.
This option is visible whenever you make an attempt to make the payment (see image below)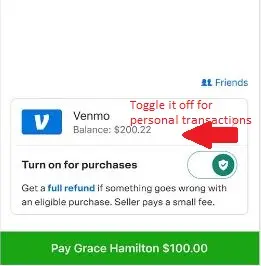 When you are reimbursing your friend or family member for dinner or a purchase they paid for, it may as well be a personal reimbursement, not requiring this to toggle on this option.
Accidentally made a transaction on Venmo keeping the purchase toggle on (for goods & services)
An issue that is quite common is that people keep the "Turn on for Purchases" toggle on when making the payment, without realizing it. This also has to do with the design of the app, as many people overlook this option or don't understand when it has to be turned on or off.
If you accidentally made a personal payment to another person with the "purchase" button on, you (as the sender) should contact the Venmo support team immediately to get the transaction changed and have the fees refunded to the recipient.
There is no option to change this at the recipient's end, as Venmo will respect the call taken by the sender of the money. Even if the recipient tries to put this case to Venmo, they will need the sender's permission to have this changed.
You also can't do it yourself and have to get in touch with the Venmo Support team to have this done.
Implications of turning on Goods and Services Venmo
When you tag a payment as being for goods and services by keeping the "Turn on purchases" button toggled on, it has the following 3 implications:
Venmo deducts a fee equal to 1.90% of the transaction amount + $0.10, which is borne by the Seller (Recipient)
As a buyer, you are covered by Venmo Purchase Protection program for such transaction
The payment gets marked as a business receipt for the recipient and may be reportable by Venmo for tax purposes (When the total of such payments marked as goods and services exceed $600 annually)
In fact, as per Venmo rules, a seller can sell goods and services on Venmo only by creating a Business Profile or if the buyer identifies such payment to be made for goods and services when being paid to a personal profile
Wrap Up
So do take note to toggle off the "Turn on for purchases" button whenever you are initiating the payment on Venmo. Unfortunately, there does not seem to apply this as a universal setting probably because Venmo envisages you may run into situations where you need it.