If you have a Chime bank account and looking to get a cash advance from Earnin, you are on the right post to get the complete answer to this query- Does Earnin Work With Chime? The answer can be "Yes" or "No" as Earnin offers support to only limited Chime Users. So what is the reason for this and how to check this? In this post, we will cover the complete story.
Earnin is a popular cash advance app that was launched in May 2014. It has more than 2.5 million active users. On the other hand, Chime is a popular fintech that offers banking services (in partnership with Strides N.A and The Bancorp Bank) established in 2013.
If you have heard about it from your circle, many users have been able to successfully connect their Chime bank account to Earnin, in the past. However, Earnin has faced operational issues in supporting Chime users.
Does Earnin Work With Chime
Earnin offers support to a limited set of Chime users, because of operational issues in determining payday for Chime users. It may or may not work for you, depending upon if you are a part of the group that is supported.
As per the official response on the Earnin website, they are still working to allow all Chime users access cash advances on their platform. The problem is in determining the pay schedule for Chime bank users, as many users opt to get their paycheck up to 2 days before the scheduled date (which is a popular Chime feature). This pay schedule is required by Earnin to calculate available earnings and debit your bank account for outstanding Cash Outs on the correct day.
As a result, Earnin does not allow most new users to connect their Chime bank accounts. However, they maintain that they offer support to a limited set of Chime users on a test basis and are working towards full compatibility.
The only way to find out if Earnin works in your case is to test this out by attempting to link your Chime Bank account in Earnin App. You should consider the possibility that even after selecting Chime and entering your account number and routing number details, it may not connect. And even after connecting it successfully, it may not work as expected.
For many users, they were not able to cash out to Chime account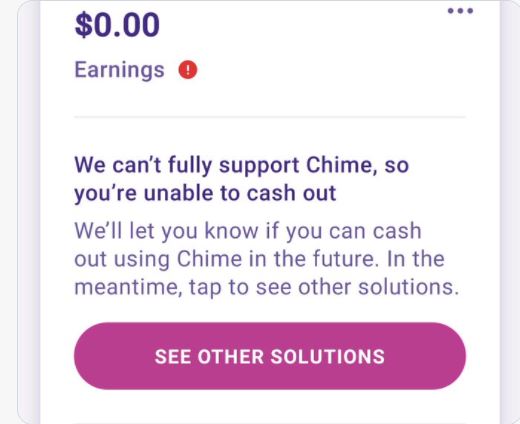 We have seen many user reviews on the Earnin app complaining that they were unable to link the Chime bank account, after following all the steps. While for some users, it worked just fine.
So this does seem to be consistent with Earnin's official position.
If you want to save yourself the trouble, you can explore alternative cash advance apps that work with Chime which include Dave, Klover, MoneyLion, etc. In fact, you can Chime Bank's own product "Chime Spot Me" which allows you to overdraft as well as withdraw cash from ATM or use cashback.
But if Earnin is your preferred go-to option, you should first try connecting Chime in your Earnin app, as per their guide. You can also try reaching out to Earnin Support Team to see if they can help you troubleshoot any issue.
Certain Chime accounts are supported by the app. Have you already done the steps in this FAQ article: https://t.co/3e9bEh1VGG ? If you have, please send us a DM so we can check if your Chime account is compatible with the app. Thank you!

— Earnin (@earnin) January 16, 2022
If things do not go through as planned after all the efforts, you may have to consider an alternative bank account with a traditional bank like Wells Fargo, Chase, etc. to set up a direct deposit and use that to link with Earnin.
Earnin requirements
To be able to use Earnin, you should be receiving direct deposits regularly into a checking account. Earnin does not support saving or prepaid accounts.
Find out if you can use your Chime account with Earnin
The only way to find out if Earnin works in your case is to test this out by attempting to link the Chime Bank account in Earnin App. This will require you to verify your bank account with test transfers.
The steps to link Chime Bank Account to Earnin
Download Earnin App on your mobile
Click on get GET STARTED
Tap on the magnifying glass on the top right corner of the screen and type "Chime" the name of your bank. If it shows up, tap on it and it should show a message letting you know if Earnin supports Chime for your case.
You can then proceed to connect your bank using online banking credentials and verify account with your Chime bank routing number and account number if prompted.
Once your bank is successfully linked to Earnin, click Continue.
If you are able to successfully link Chime account with Earnin, you can turn on "Allow Transactions" in your Chime App settings.

Wrap Up-Future Ahead for Earnin and Chime users
While Earnin does not offer full-fledged support to all Chime users, it seems they are on the path towards full compatibility with Chime. They have acknowledged this at multiple forums and continue to offer support for a small set of Chime users. If you are indeed one of those lucky users who are able to successfully link Earnin with Chime, let us know in the comments.
Chime also does not reflect in the list of banks Earnin has officially declared to be not supported (this list includes Varo).
But things are not as simple. Chime has its own overdraft product "Spot Me" which too does not charge any fee (works on voluntary tips) and also allows you to overdraw cash up to your limit. So Chime is in a way offering services that compete with Earnin.
Compatibility between fintechs with conflicting interests may not always be sustainable. So always have a backup plan