If you are looking to get a passbook for your HDFC saving or current account, here is an easy guide to help you with this.
HDFC Passbook is an essential document to keep track of your day-to-day bank transactions. HDFC Bank provides you number of options to access your passbook.
Let's see the details on how to get HDFC passbook, if you have not got one or lost it.
How to get passbook from HDFC
Way 1- Submit the application form to get new physical passbook issued at HDFC Bank Branch
Way 2- Download HDFC mobile banking app to get HDFC passbook in digital form on your mobile
Way 3- Login at HDFC Bank website net banking to get passbook i.e. bank statement details
Now let us look into the detailed steps for each of these ways.
Way 1 – Get passbook issued at HDFC Bank Branch
Many times you require the physical passbook with the front page which has the customer KYC and bank account details as proof of address etc.
You can follow the steps below to request for a new passbook from HDFC Bank or to get your passbook re-issued you have lost the old one:
Fill the respective application form available at HDFC Branch. You can even download the form from HDFC Bank website.
Sign the filled application form and submit it at your nearest branch to get your new passbook issued.
Way 2- Download HDFC mobile banking app to view digital passbook on your mobile
You can also get Mobile passbook called HDFC mPassbook on HDFC Mobile Banking app. It is a feature which is available as a separate section in the HDFC Bank Mobile Banking App.
mPassbook is a great way to get regular transaction updates on your Savings or Current Account from the convenience of mobile.
Make sure you are using the latest version of HDFC Mobile App to be able to access this feature.
Steps to access HDFC mPassbook on Mobile
Download and Install HDFC Mobile App on your mobile
Open the App and click on the option "More" at the bottom right hand corner of the screen (see images below)
On next screen, click on mPassbook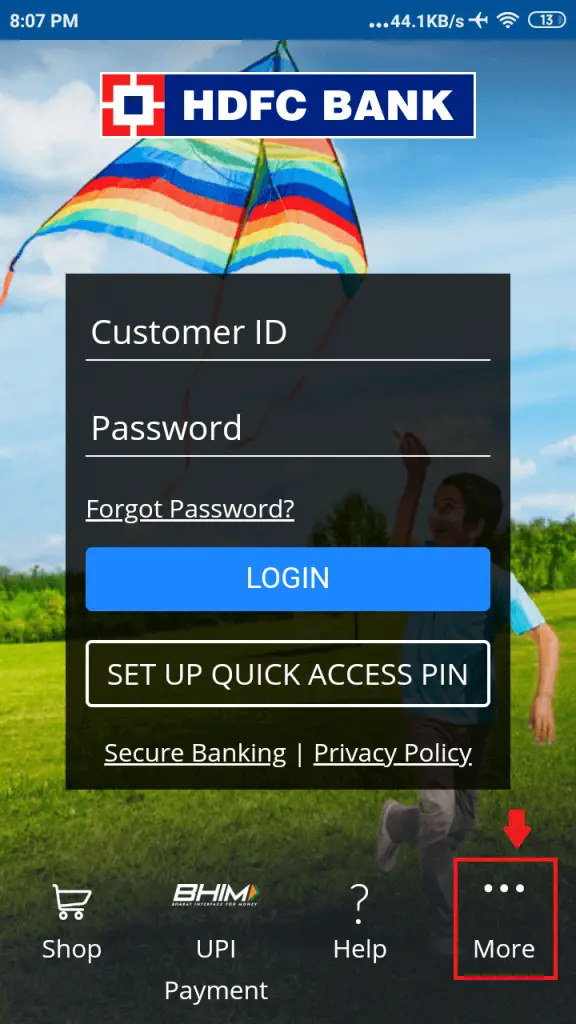 Complete one-time registration to start using the mPassbook feature by either entering your Debit Card No. and PIN (Option 1) or your internet banking customer id and password (Option 2)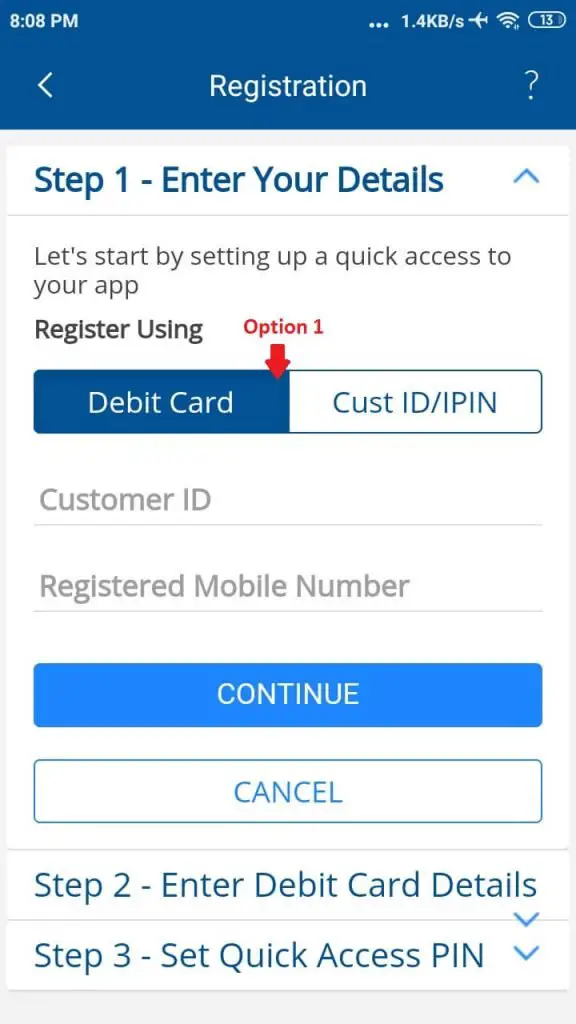 You will be asked to set a short 4 digit Quick Access Pin to access the mPassbook. Note the mPassbook only allows to view your bank account balance and does not give you access to do any transactions.
When you open mPassbook, it will show you the list of your accounts with their balances. Click on the account whose passbook you want to view
In the next screen, you will be shown graph and recent transactions .You can click to view more transactions upto last 6 months.
You can even download the statement as PDF by clicking on "Request Statement" button
It even allows you to categorize your transactions and track your income expenses.
With this feature you can keep a track of all transactions and view them at any time.
Way 3- Use HDFC Bank Netbanking to get bank statement (in place of passbook)
If you are just looking to get bank statement, you can download the same using HDFC netbanking. Follow the steps below:
You can download and print the past two years' bank account statements by following the steps below
Login to NetBanking with your HDFC Customer ID and password
Click on the 'Enquire' option on the left side of home screen (after logging in)
You will see an option 'Account Statement- Current & Previous Year' (similar option also available for Current & Previous Month statement)
Select the required months or year for which statement is required
Download the statement using any one of the available file formats which are Excel, PDF etc.
In case you are looking for a longer period than the previous year, you can go to "Request" tab on left side (not Enquire which was the earlier option) and select the option "Account Statement-Last 10 years".
Now under this option, you are actually placing a request to the Bank to send a Physical Statement which is delivered in 4 working days to registered address or Email statement which is delivered in 1 working day to registered email id. But as per the instructions- if you have already registered for email statement, you will only get email and no physical statement will be sent.
You can check below the detailed process for requesting a physical bank statement to be delivered to your registered address. The steps for requesting a physical bank statement are below:
Login to NetBanking using HDFC customer ID and Password
Select 'Account Statement-Last 10 years' under the 'Request' option on the left hand side
You can then select the Account Number and period of the statement requested
Click on 'Continue' and 'Confirm', and the account statement will be delivered to your registered address within 4 working days
Wrap Up
In this way, you can get your HDFC passbook or bank statement with any of these options.
If you just want to view your bank transactions in the passbook, then the HDFC mPassbook is suggested. It is a really easy way to track your bank transactions on mobile and stay updated with your balance.
However, if you are not that tech savvy or require a physical passbook, then you can go for the option 1.