Looking to search a specific post on Facebook by date. In this guide, you will get the step-by-step guide on how to search Facebook posts by date i.e. day, month or year.
Facebook is one of the most popular social networking platforms having more than 2.6 billion active users. Recently, Facebook has done a lot of changes, giving you the option of a more modern looking interface apart from the classic look.
Facebook has also been changing the features to find information across Facebook including the ability to search for posts by date, or posts from a particular page or group, friend etc.
So let's answer the main question.
How do you search specific post on Facebook by date? You can search for Facebook posts by date by typing in the relevant keywords in Facebook search bar and use the filter of Posts and Date (Year) to show only the specific posts for a particular time period.
But it's not as easy as it looks. There are some factors to consider.
Let's look in to this in more detail-Step by Step
Before we start on the steps, there are some factors that impact the search options available to you on Facebook.
The important consideration here is – Your ability to search for a Facebook post by date changes depending on how you are accessing Facebook i.e. from Desktop or Mobile. If you are using mobile, it depends on which Facebook app you are using.
The Facebook Classic Interface on Desktop and Facebook Lite App on Mobile give you more advanced search options.
If you are using Facebook desktop , switch to Facebook Classic Look by clicking on Down Icon on Home Page-Right Side . (Update: The option to switch to Classic look has been recently disabled by Facebook for most users. However, some users are using chrome browser extensions like "Switch to Classic design on Facebook" etc. to bring back the classic interface.)
If you are using the New Facebook Look, you will be able to filter results only upto a specific year. While Facebook Classic interface gives you more specific options to filter further up to month and year.
On the other hand, if you are using mobile, the main Facebook App again allows you only to filter date up to a year. But if you use the Facebook Lite App, you can filter the post actually up to a specific day or custom time span say between 2 dates.
So the best practice is to use Facebook Lite App if you are looking to run a very specific search i.e. up to a specific day. But if you want to filter only up to a month/year use Facebook Desktop with Classic Look Option.
Now with that information, let's jump to specific steps involved.
How to Search Facebook Posts by Date
(Screenshots from Facebook Lite App- the process is same for Facebook Desktop or Main App)
Type in the Relevant Keywords in Search Bar and press enter to run a universal search on Facebook

On next screen, apart from search results you get a bunch of Tabs to narrow down your search results to include only Posts, Photographs, People, Videos etc. Click on the Posts tab and you will be able to see a bunch of options to filter your search results further.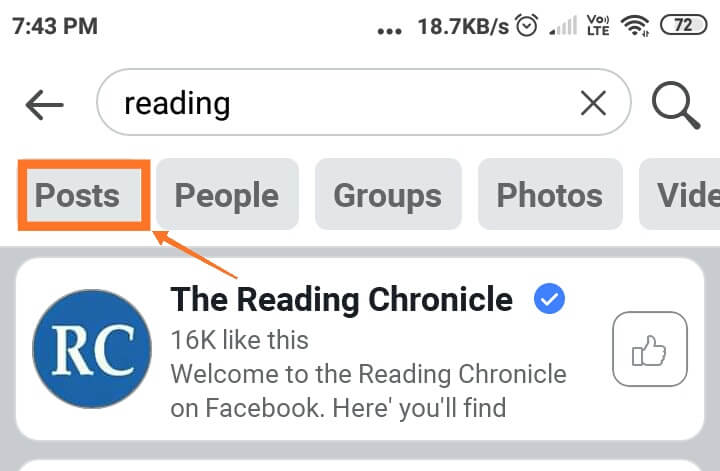 You now get specific filters to narrow down the search results like Post From, Post Type, Posted in Group, Tagged Location and Date Posted. If you are using Facebook App on mobile, these options are displayed horizontally and on laptop it is displayed vertically.

Select Date Posted. Using this filter, you can filter on a particular year. If you want to filter further by the month, select "Choose Date" to select the month and the year. If you are using Facebook Lite App, it allows you even more specific options to select a particular date or custom time span between 2 dates
Facebook Classic Look Screen – Filtering Options on Desktop
Also Read: How to Add Money to Venmo App

Search Options in Facebook Desktop Mode (Classic Look)


Let's talk about the other filters and search options:
Also Read: How to Poke on Facebook 2020
Posts From -This gives you the ability to search the posts from specific person, page or group.
You can filter on posts from you, from your friends, from your groups or pages or other public Posts
If you want to narrow down the result to a specific page or a group, click on "Choose a Source"
Posts Type – This is pretty straight forward. You can filter all post or only those posts which you have seen earlier
Posted in Group- Filter results to include only results from a particular group or groups
Tagged Location- You can also filter on posts by location where the posts are tagged to a particular location.
Now, although the filter is for posts on a date, it is not specific to a month or specific date.
Also Read: How to See Liked Posts on Instagram [2021 Guide]
Wrap Up:
So you see while it is easy to run a search for finding posts by date, the important consideration is ability to filter down depends on whether you are using the Facebook Desktop or Mobile and also the app used. Here's the summary:
Use Facebook Lite- to search for posts by date i.e. on a specific day or between 2 dates
Use Facebook Desktop (Classic Look)- to search for posts upto month and year
Use New Facebook Desktop or Facebook Normal App- to search posts if you only want to filter upto a year
Hope you liked this article and share it with your friends who may find the information useful.
Some other useful posts on Facebook :
I am a blogger and on this website, I share helpful information mostly on products and services I personally use.