If you are looking for cash advance apps that work with Cash App, you are on the right post to get the complete answer.  Do popular apps like Brigit, Cleo, Earnin, Klover, Dave, etc. work with Cash App? Read this post to find out the complete details of all payday advance apps that support Cash App.
Cash Advance apps allow you to borrow funds outside of your payday cycle. If used correctly, they are a cheaper alternative to the overdraft facility offered by traditional banks that comes with heavy fees, that can burn a hole in your pocket.
Most payday advance apps instead rely on voluntary tips or flat membership fees as a source of revenue.
However, most of them do charge you for instant advances, usually called an express fee if you need the funds immediately (barring a few like Chime SpotMe®)
Some of the popular cash advance apps include Dave, Brigit, Cleo, Albert, Earnin, MoneyLion, Klover, Chime SpotMe®, etc. However, not all cash advance apps are supported by Cash App. 
These apps are essentially advancing you against your paycheck. So they need visibility of your payday and the trend of your direct deposits.
So let's answer the main question –
Do the cash advance apps allow you to link your Cash App i.e. if you receive a direct deposit in your Cash App account and want to use it to access the cash advance?
No, Cash advance apps need visibility of your payday and paycheck amount, that is not possible with prepaid accounts including Cash App. If you have set up a direct deposit with Cash App and looking to add this account to these cash advance apps, it will mostly NOT work.
These payday advance apps mainly support traditional or online banks, that can be linked via Plaid. That way, they can check your record of a steady income and decide your eligibility.
Having said that, if you want to connect and move funds from Cash Advance Apps to your Cash App account and vice versa, there are a few ways to achieve this.
In a nutshell, you can follow the approach below:
Option 1: Open a native bank account offered by the payday app e.g. Dave, Money Lion, Chime, etc. Then link this bank account or add its debit card directly to Cash App
Option 2: Link any other supported external bank account (where you receive the direct deposit) to the Cash Advance App. Then add this same bank account to Cash App. Now, use the bank account as a bridge to move money between the two apps.
Let's now look at popular cash advance apps that are compatible with Cash App and how to connect the two apps.
Cash Advance Apps that work with Cash App
Dave
MoneyLion
Chime SpotMe
Albert
Important: These payday apps allow you to move funds to and from Cash App by adding the cash advance app card inside Cash App.
But to be able to get the cash advance, you have to set up direct deposit with a supporting traditional or online bank and not with Cash App.
Dave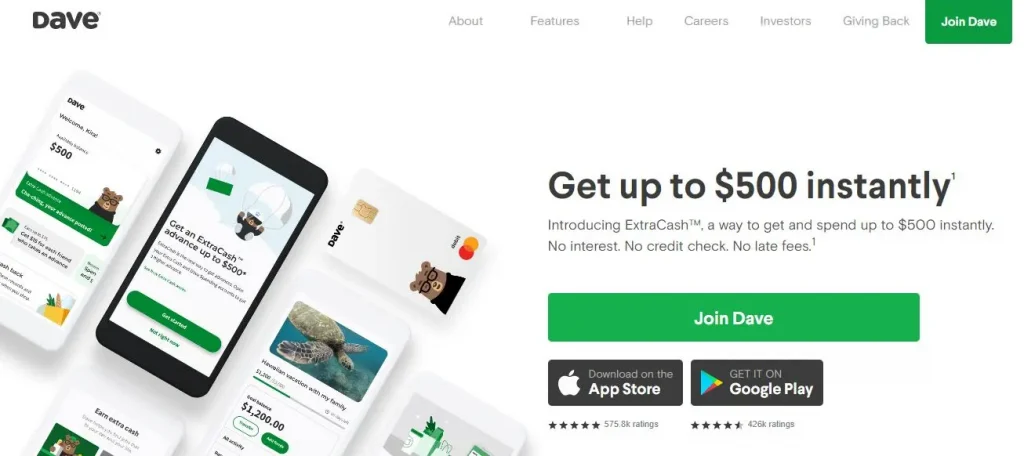 If you are using Dave and have a Dave Spending account, you can add your Dave debit card as a payment method in Cash App. You can transfer money from Cash App to your Dave account as well as pull funds from Dave for making payments using Cash App, this way.
Do note that Dave does NOT support instant deposits from Cash App to Dave Spending card (which normally works for other debit cards). As per Dave, a standard deposit transfer can take up to 5 business days.
Dave offers cash advances against your paycheck and has the following terms
Fee- 1$ per month for membership
Express delivery fees – $0.99-$6.99 for instant advance in your Dave Spending Account, higher for external bank accounts.
No interest or credit check required
Cash advance up to $500 (A monthly total deposit of $1,000 or more is required for a higher advance amount)
Link external bank account -traditional or online bank or use Dave's own checking account which has eligible direct deposits.
If you link an external bank account, Dave usually verifies that your account has a minimum 60-day history and checks for any recent negative balances.
Dave checks for at least three (3) recurring deposits, income history, and spending patterns to determine eligibility and limits
If you open a checking account with Dave, you get the Dave debit card for such a checking account. You can then add this card to Cash App.
How to add the Dave Debit Card to Cash App
Open the Cash App and log-in
Next tap on the Bank icon at bottom of the cash app home page
Next tap on Link bank
Enter your Dave card number
Follow the on-screen instructions and complete the Verification process
Your Dave account will be linked to Cash App
Adding Cash from Dave to Cash App
Go to Cash App's homepage
Tap on the bank or dollar icon
Choose Add Cash
Enter the amount you wanna add
Tap on the Add $ button
Verify your identity
Money will be transferred from Dave to Cash App
MoneyLion
You can add your MoneyLion debit card to Cash App, to transfer funds from your Cash App to your Money Lion account.
You can get the Money Lion debit card if you sign up for RoarMoney.
You can then add your Roar Money Card to Cash App. Cash App supports instant transfer to such linked debit cards.
However, do note that there are sometimes issues of delay experienced when trying to transfer funds to fintech debit cards
Alternatively, you can also add your Cash App account to Roar Money using the manual process by entering your Cash App routing and account number. This is a standard ACH transfer and can take 1-3 business days.
You can check more details on how to transfer money from MoneyLion to Cash App.
MoneyLion works on a membership model with the product "InstaCash" option (without interest) that offers to advance up to $250 ahead of payday. It also provides short-term loans.
Eligibility conditions MoneyLion
You can also use an external bank account to MoneyLion for it to validate your direct deposit and balance history.
You should note a few points when linking a bank account and applying for the cash advance from MoneyLion, from an eligibility perspective.
The bank account has been active for at least two months and has regular deposits of income/paychecks
The bank account should have a positive balance
MoneyLion Terms
Up to $250 cash advance with 0%APY
No interest or late fees
No credit history check
Express fees- $0.99 to $7.99 to get advance instantly
Chime SpotMe

You can also use Chime with Cash App by adding your Chime Debit Card or Chime Bank account as a payment method in Cash App.
If you have signed up with Chime and set up a direct deposit of $200 or more, you could also spot yourself an amount up to $200 by opting for Chime SpotMe®.
Chime SpotMe allows you to overdraft your Chime debit card for purchases and cash withdrawals.
You can read more to understand the details of how Chime SpotMe works.
Albert
If you have the Albert Cash account which comes with the Albert debit card, you can add this card to Cash App. This can be used to pull funds when needed from your Albert account to Cash App. You can also cash out your Cash App funds to this card using an instant deposit.
However, it won't work if you are looking to link Cash App Card to Albert App.
As per the Albert website, to get access to Albert Instant (cash advance facility), you need to link a debit card associated with a bank account where you receive your income.
Prepaid cards and cash cards don't have the necessary functionality to receive and repay cash advances and are not supported by Albert Instant.
It also gives the below list of prepaid cards which are not supported by Albert Instant:
Netspend
Walmart Money
BankMobile Vibe
Card.com
Go2Bank
AccountNow Prepaid Visa
American Express Reserve
Money Network Pay Card
Although Albert does not specifically call out Cash App Card in the above list, it may imply.
Other Apps and their compatibility with Cash App
Cleo
No, Cleo only works with a bank account when it comes to using the Cleo Plus service, where you get the cash advance facility. They don't support linking to prepaid cards.
But for the purpose of moving money between the two apps, you can use a common bank account to connect Cleo to Cash App.
Earnin
You may not be able to use Earnin with Cash App.
As per Earnin, it does NOT support transfers to prepaid cards or prepaid accounts, including Cash App Card.
You can still use a workaround to link Cash App to Earnin for the purpose of moving funds between the two apps.
Brigit
No, Brigit is another example of an app that does not link directly when it comes to prepaid cards like Cash App.
You can check my detailed post on how you can indirectly link Brigit with Cash App.
Vola
No, Vola does not support prepaid cards like Cash App or Venmo.
Vola, founded in 2017, is a relatively new player in the payday loans segment. It offers cash advances up to $300. It has its headquarters in New York. There is no interest but it requires you to pay a membership fee starting at $2.99.
You may be able to add the Vola prepaid card inside Cash App. However, there is no confirmation of this. Do share in the comments, if it works for you.
How to Borrow Money From Cash App
Cash App has its own Borrow feature, that allows you to get a loan on Cash App itself up to a limit. The Cash App Borrow feature is still in the testing phase and has not been rolled out to everyone.
With the Cash App Borrow feature, Cash App in itself competes with the Cash Advance apps in a way. So in the case of linking fintech to fintech, it always is difficult to guarantee compatibility due to such conflicting interests.
If you can see the Borrow option on your Cash App (see below), you can get a loan from $20 to $200 (even higher).
Open Cash App
Next tap on your Cash App balance in the bottom left corner
Next, go to the "Banking" header
If you see "Borrow" you can take out a Cash App loan
Tap on "Borrow"
Tap "Unlock"
Cash App will tell you how much you'll be able to borrow
Read the user agreement
Accept a Cash App Borrow loan
However, it is NOT a cheap option.
Cash App charges a 5% flat fee to borrow money that you have to repay in four weeks. Plus another 1.25% per week after the grace period.
So it turns out to be expensive w.r.t other apps but more convenient to set up or administer.
How to Link Cash Advance Apps to Cash App
If you are looking to use Cash App with these cash advance apps, it would be better to
Way 1: Set up your direct deposit with a traditional bank account or supporting online banks. Then use this bank account or bank debit card as a bridge between the Cash App and cash advance apps to move the funds between them, by individually linking this traditional bank account in both apps.
That way, you can move funds to and fro using the bank account as a bridge.
You can even consider using an online-only banking service like Chime that works with other cash advance apps.
Note: Chime is a financial technology company, not a bank. Banking services provided by, and debit card issued by, The Bancorp Bank or Stride Bank, N.A.; Members FDIC.
Way 2: If the cash advance app offers its own native checking account, you can link the debit card or bank account that you have set up with these cash advance apps like Dave, MoneyLion, in Cash App.
That way, you can transfer the money borrowed to your Cash App account or cash out your Cash App balance to such advance accounts. However, this is setting up a direct fintech-to-fintech connection, which may not be ideal but does the job.
Wrap Up
Unfortunately, you can't link or add your Cash App account to any of the Cash Advance Apps. But there are ways to move funds between your Cash App account and your Cash Advance App, either using a traditional bank account as a link or by directly linking the cash advance card offered by such Payday apps in your Cash App account.
References
https://support.dave.com/hc/en-us/articles/360062306431-Cash-App
https://help.albert.com/hc/en-us/articles/360041602433-How-do-I-qualify-for-Albert-Instant
https://help.earnin.com/hc/en-us/articles/360033747993-Can-I-use-a-prepaid-card-or-a-paycard